Retail Assist's IT Help Desk provides support to Pizza Hut Restaurants 24X7X365
Bill Parker, IT Service Manager for Pizza Hut Restaurants, visited Retail Assist to praise its IT Help Desk for what he called a "tremendous team achievement"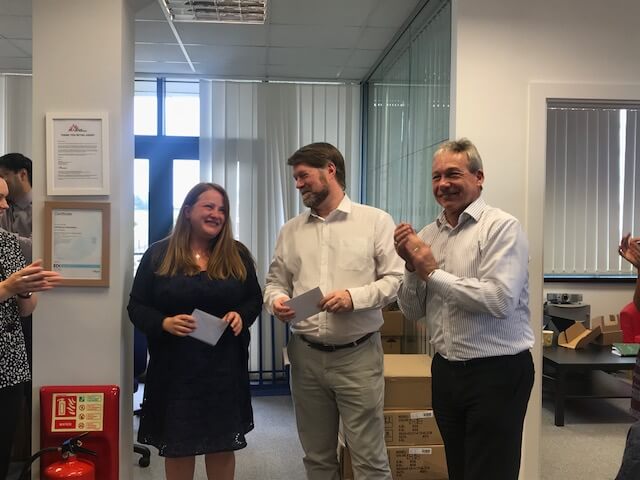 Sharing thanks: Liz Donagain (left) and Richard Winstock (middle) were thanked by Bill Parker, Pizza Hut's IT Service Manager
On Wednesday 29th August, Pizza Hut Restaurant's IT Service Manager, Bill Parker, travelled up to Nottingham to personally thank the Retail Assist Help Desk, bringing with him lots of pizzas to treat everyone.
The IT Help Desk provides support to Pizza Hut Restaurants available 24 hours a day, 365 days a year and has recently overseen the transition from Ambercat to Jira's issue tracking software.
Bill said: "Retail Assist has exceeded my expectations with the migration; it has been seamless from our side. I wanted to express our thanks to everyone that has been involved in making it happen. I believe we are already seeing the benefits. I feel this does demonstrate how investing in the planning reaps rewards with the transition".
"I've experienced many different transitions, but this has been the smoothest and most streamlined to date."
The Help Desk's work is part of a continued relationship with Pizza Hut Restaurants, who renewed their contract agreement for a further three-years with Retail Assist earlier this year.
Bill particularly wanted to thank IT Help Desk colleagues Liz Donagain and Richard Winstock, calling their work "outstanding" and especially praising "their commitment, dedication and prompt follow-up".
Retail Assist has supported Pizza Hut Restaurants since 2013, as a single point of contact for everything IT related in their restaurants. Retail Assist's first and second-line Help Desk teams proactively manage all elements of IT support for 7,500 Pizza Hut Restaurants employees working across 256 restaurants, with 24 x 7 availability.
Dan Smith, Chief Executive Officer at Retail Assist, said: "We are delighted with Bill's feedback as we're very proud of our relationship with Pizza Hut Restaurants. Our proactive approach to planning and supporting our clients aims to reduce issues, with our unique hospitality service provision benefiting thousands of members of the Pizza Hut Restaurants' team across the country."
Retail Assist's IT Help Desk won 'Services Company of the Year 2017' at the UK IT Industry Awards in 2017, and also won the 'Best Managed Service Desk 2016' at the Service Desk Institute's Annual IT Service and Support Awards.