What will be the top trends at RBTE 2018?
It's just 2 days to go until this year's RBTE, 2-3rd May at Olympia London. To meet up with any of the Retail Assist team over the 2 days, please email marketing@retail-assist.co.uk. See you there!
Look out for our live updates from RBTE 2018 on our Twitter page @RetailAssist. We'll be rounding up our insights in an RBTE video update later this week, which you can see on our YouTube channel.
So, with NRF, Retail Week Live, and World Retail Congress behind us, what do we expect to be the top trends at RBTE 2018?…

The Fast and The Furious
One of our favourite insights from the recent World Retail Congress in Madrid comes from Retail Reflections:
"If you're not obsessed with speed, you're probably obsessing about the wrong thing."
"Rapid ultra-fast adoption of technology is undoubtedly now at the core of modern retailing but combined with a willingness to realise that the rules have changed", says Andrew Busby.
With a call for new experiences, and faster trend adoption,  retailers must start creating new rules to play by.
Gen Z's comfort with a fast pace of change allows retailers to bring out their latest technology innovations quicker than ever before, with reduced fears of low adoption.
AI or Die
Retailers recognise that to manage and support future growth, they need to invest in technology. One of the industry's greatest success stories, ASOS, is seeing that a rising capex and greater investment in technology is paying dividends. ASOS completed 1,200 tech updates during the last six months alone.
In this space, AI has taken up the most attention. On the subject of AI, Nick Beighton comments:
"[AI] is going to be a game-changer for us in many important areas, not only improving customer experience but also lowering the cost of how we operate our business model."
We expect RBTE will place huge importance on harnessing the power of AI, to improve customer engagement, empower employees and optimise operations.
Predicted AI buzzwords: accuracy, efficiency and cost-effectiveness.
Why tech must enhance, not challenge
On the subject of efficiency, we have seen increasing emphasis on the need to empower the retail workforce.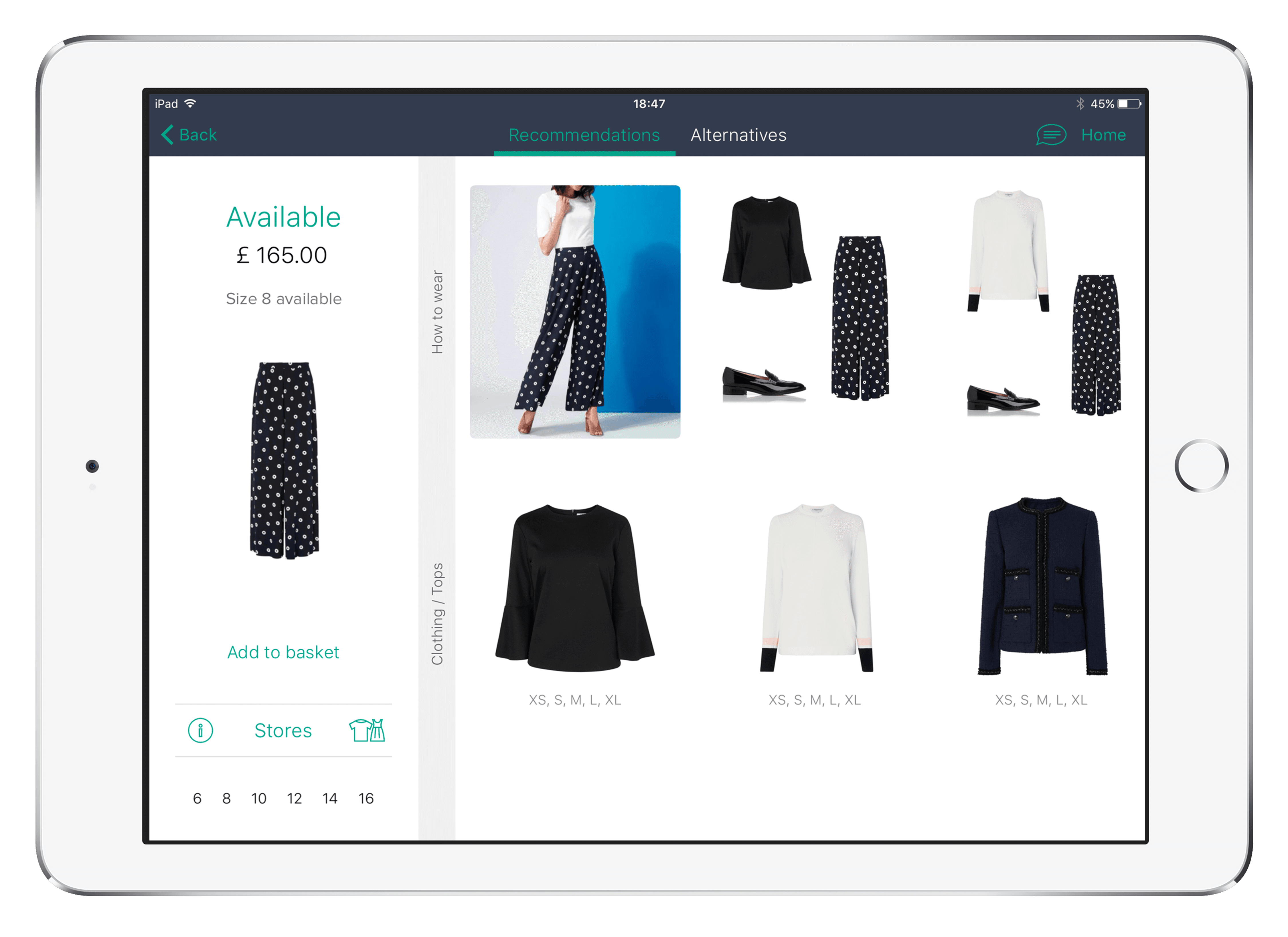 Mercaux's Sales Assist app.
Providing the detailed information that customers want – on products, their availability, and delivery options – removes the risk of lost sales and customer churn.
Customers are satisfied because they don't have to wait for store associates, and store associates are happy in the knowledge that they can provide accurate, personalised information. If you want to see our partner solution in action, make sure to check out Mercaux on stand J141.