IT issues can hit anyone at any time – even the most highly organised businesses. But by adopting a proactive approach to incident reduction, retailers and hospitality providers can prevent simple technical issues, such as till downtime, from damaging their sales potential.
Perceived waiting time and inconvenience at the checkout are key predictors of 'shopping cart abandonment', and in today's fast-paced digital world, patience in-store is wearing thin. It has been estimated that losses due to systems downtime work out in the tens of thousands. Would you have the right support in place in this situation, to get your systems back up and running before such cost damage could occur?
Consumers have the ability to transact anywhere, at any time, and retailers' IT support must reflect these expectations. Outside of the weekday nine-to-five remit, turning to outsourced service providers for extra weekend support can bridge the gap between in-house capabilities, which offer more hours of support and a breadth of skills that comes from using a shared service. Our support capacity is 4x higher than industry average. We even saved one of our customers 30% of their IT costs through our outsourcing model.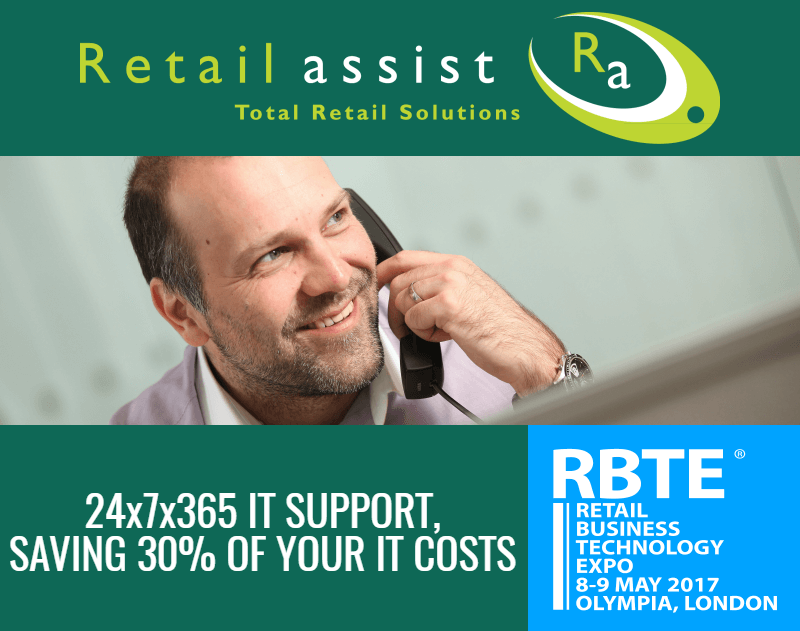 By having the right support in place, it helps to eliminate the risks of till downtime and other technology related problems that negatively impact service. This not only gives businesses reassurance, but also helps to promote calm and confident store staff. Although things can go wrong, it's how you put them right that matters. Playing a 'behind the scenes' role, IT Managed Services help to save time whilst increasing profit by delivering greater systems uptime at the point-of-service.
It's not just retail that we specialise in, having supported leading hospitality brands such as Pizza Hut for 3 years with 24 x 7 IT support. Keith Frimley, IT Director at Pizza Hut Restaurants added: "Retail Assist supports some of the UK's largest and best-known retailers, which gave us confidence in their capabilities. They understand the importance of keeping systems fully operational and keeping staff at ease, whilst finding resolutions to the challenges they are facing. This is something which is as critical in hospitality as in retail. We've found them to be efficient and effective, which has resulted in us reaping the benefits of improved service to our operations and reduced disruption to customer service".
We also understand that your stores aren't just UK based – supporting global stores is a specialism for our multilingual analysts – we actually speak double the number of languages as average IT Support.
By analysing incidents and identifying patterns, simple trend analysis can prevent future issues from recurring. This might also involve identifying where costs are being incurred and reducing the number of chargeable hardware call outs.
Our latest benchmarking stats show that Retail Assist performed 10x better than industry average IT Support last year across a range of criteria including SLAs, languages, and support capacity: see the full infographic here.
Retail Assist will be on Stand 235 at RBTE. Drop by to hear more about our range of Managed IT Services, which aim to reduce your IT costs by 30%.