Retail Assist's IT Help Desk is at the forefront of our business. Working 24 x 7 x 365, and supporting customers in 18 countries across thousands of global locations, our service offering has the industry seal of approval: winning "Best Managed Service Desk" at the IT Service and Support industry's global awards last year. In our latest annual benchmarking, we've made an infographic detailing our key statistics from 2016, and how this compares with industry averages.
We're proud to highlight our headline stats:
10% higher achievement of Service Level Agreements, compared with industry average
4 x more sites supported than industry average
Double the number of languages spoken than industry average
4 x more support capacity than industry average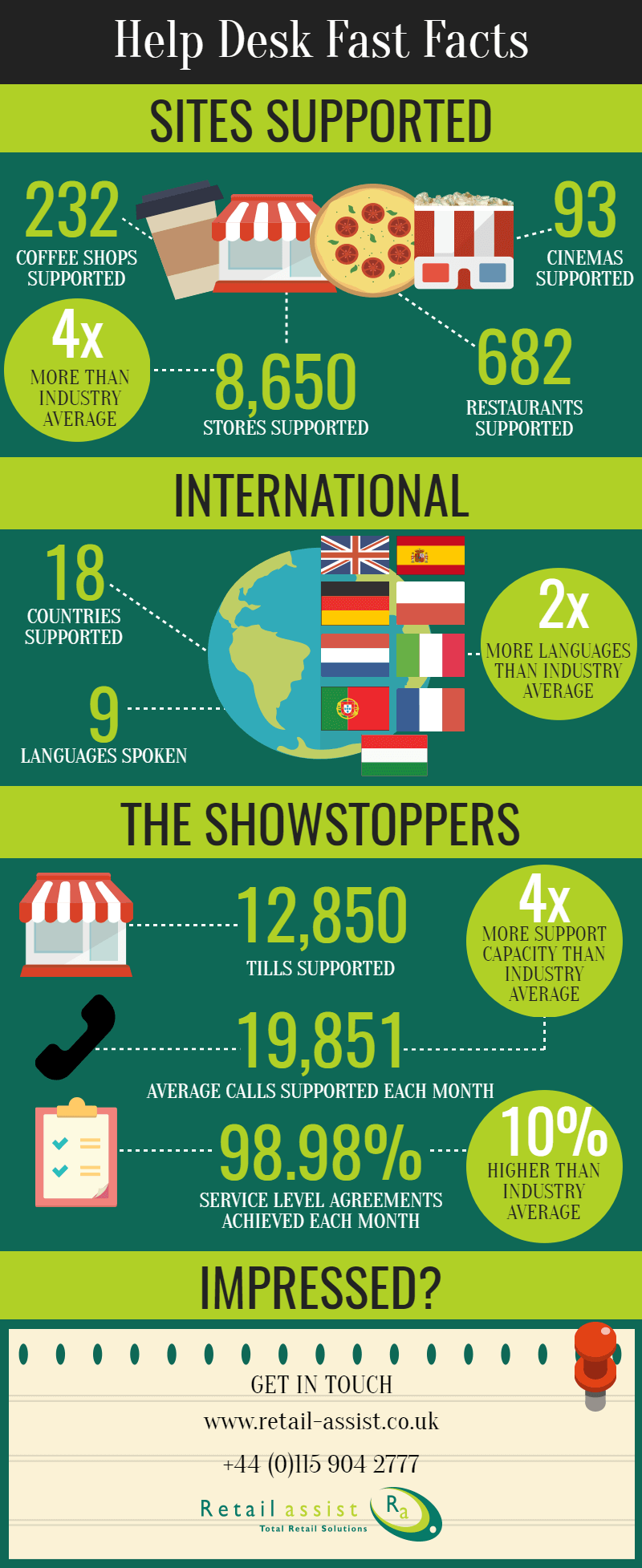 Outsourcing your IT Support is not only a cost effective solution, but also means that we can flex and scale with the level of support that you require. Out of hours support? No problem. And if this needs to be extended to 24 x 7, we can grow with you. International Help Desk Services and multilingual call analysts support our customers operating across the globe.
You could join a whole host of retail and hospitality brands which are reaping the benefits of increased systems uptime, and reduced disruption to service. As an example of the value we have added to Pizza Hut's business operations, within two months of outsourcing service desk provision, the number of incidents Pizza Hut experienced were reduced by 30%, as Retail Assist's Help Desk delivered a first-line fix greater than 90%.
Pizza Hut Restaurants are continuing to experience greater systems uptime at the point of service, commenting, "in the two years we've worked with Retail Assist, we've found them to be efficient and effective, which has resulted in us reaping the benefits of improved service to our operations and reduced disruption to customer service." (Service Desk Manager).
As our statistics show, we're not just retail specific. A growing number of leading hospitality brands – including restaurants and big coffee chains – are turning to us for IT Support, given the wide range of experience we have in supporting standard PoS solutions, including Micros, Retail-J, Infinity, Simphony, Store 6, and many many more.
If you'd like to know more, please contact our team using info@retail-assist.co.uk