We're kicking off this new decade with a celebration of our own decade-long partnership: in the latest in our client testimonial video series, we spoke to Laura Boyd, Trading Director at Mint Velvet.
Since we started supporting Mint Velvet in 2009, their business has grown from one shop to well over one hundred high street locations, a growing international presence, with Drapers reporting that turnover at Mint Velvet's holding company, Sabre Retail Fashion, has risen to £101m.
Laura said: "Retail Assist has been our partner since the birth of Mint Velvet. We partnered with Retail Assist right on day one to get the business up and running so, from that very first store that we opened in Chichester, to now, where we have over 150 locations on the UK high street and a very big digital ecommerce business which actually accounts for 50% of the brand's sales, we've had Retail Assist with us all the way."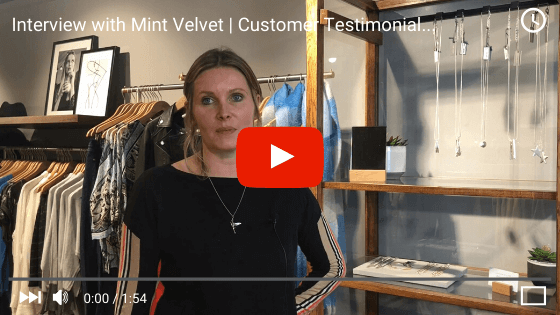 Click here to watch the video on YouTube.
How do we support Mint Velvet?
We provide complete IT support services for Mint Velvet, including our first-line Help Desk support, technical services, 2nd-line store systems support (including store openings), IT project management, business and network comms support, data centre (including support of machines, back-ups and operational support) and our supply chain software solution, Merret, and data exchange solution, Ra-X.
Mint Velvet have been using our omnichannel supply chain, Merret, since 2009. "The reason the solution's so valuable is that it really is an end-to-end solution for us," Laura explained. "It provides everything the team needs in head office, so they have the back-office system for raising purchase orders, which is the very beginning of the process, and has the WSSI, which allows the teams to manage the stock, sales and intake through the business.
"We also have an international presence now: we trade internationally in bricks-and-mortar stores and digitally. Again, Retail Assist has been the partner that has allowed us to do that and has supported that journey." This has been through our software solutions and Help Desk support to their stores.
How has our partnership evolved?
Reflecting on the partnership, Laura said: "The high street and the way in which people have shopped has changed and, as it changes, we've needed to evolve the way in which we operate. Along the journey, there's been many times we've requested enhancements or changes to the product and every time this has been required, together, as a team, we've been able to deliver what we wanted.
"Retail Assist has been very open and supportive to changing that product to support our needs."
We're here to support your expansion plans for this decade – and beyond! Click here to get in touch or email info@retail-assist.co.uk.