Last week, we released our latest infographic based on the annual results from our Help Desk. We're proud to perform 10 x better than industry standard IT Support. Here are our top 5 takeaways from the report.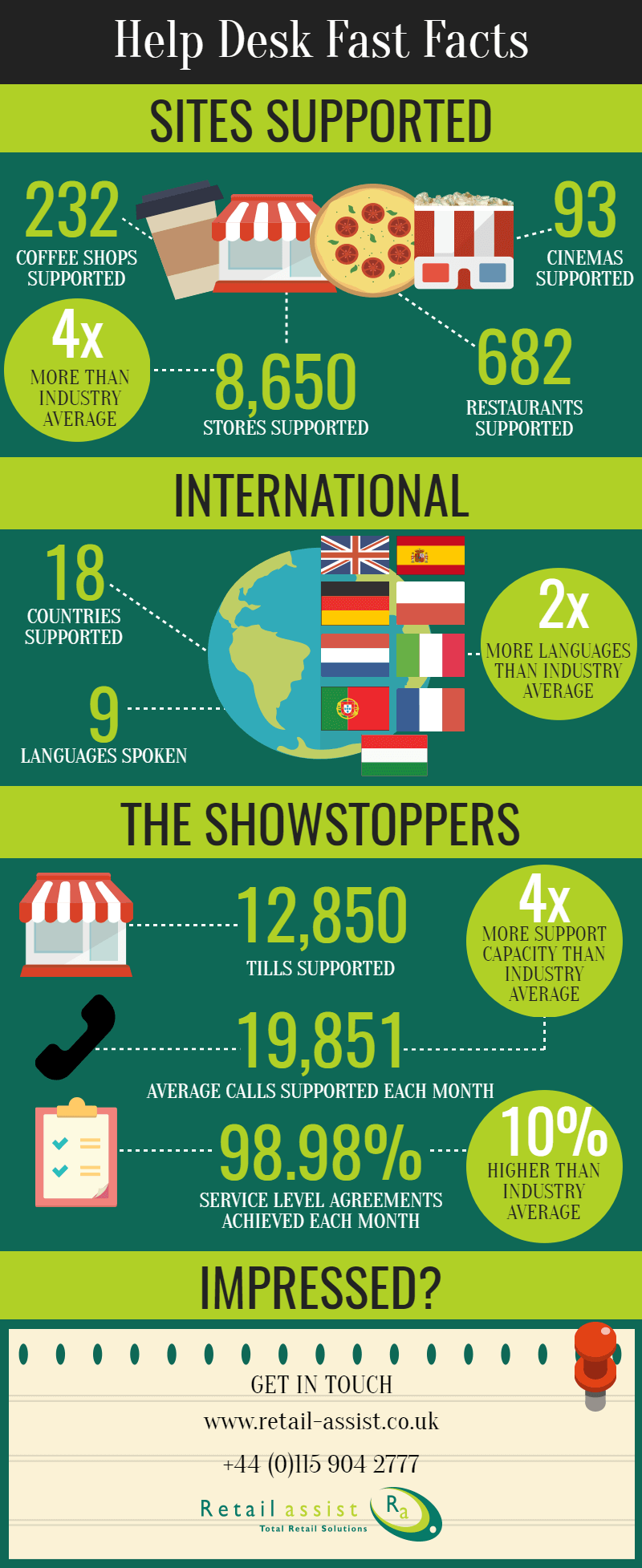 A key statistic identified from our annual results was the outstanding performance in relation to our service level agreements. Agreed with every customer, it is our aim to end every call to our Help Desk with a positive result, the problem solved, and a happy customer. For example, achieving an average first line fix rate of 81% in 2016 exceeds our customer expectation.
Understanding the customer
We have created an environment within our service delivery teams which truly understands customers' requirements. We employ analysts who have worked in the front line of retail/hospitality, and therefore understand the environments in which our customers operate, and encourage them to improve upon the specialist support provided to our customers, through intensive on-site training at some of the UK's leading retail and hospitality brands. Actively spending time on the front-line at customer sites, the team have worked above and beyond their daily roles to deliver a more engaging service experience, by gaining a deeper understanding of how the business works. Retail Assist is external part of the customers' own teams, developing closer business relationships that allow the analysts to deliver a service that fits the customers' exact needs.
Outsourced Retail IT services such as our 24 x 7 Help Desk offer a flexible alternative to in-house teams, and a more cost effective solution. A good Help Desk should match its support service to its customers' trading hours. To make this possible, many businesses supplement in-house teams with outsourced resources, which offer more hours of supports and a breadth of skills that comes from using a shared service. This means that we deal with issues as and when they arise, helping drive internal processes and provide efficient restoration of service. Playing a 'behind the scenes' role, our Help Desk save time whilst increasing profit by delivering greater systems uptime at the point-of-service. We have the support capacity to do this with a scalable service. 
Multiple language support
Hello, Bonjour, Guten Tag, Hola, Ciao, Hallo, Szia, Olá, cześć . . .
Did you know, our international Help Desk services are offered in 9 European languages, roughly double the amount of core languages offered by industry standards.
Our customers with international stores appreciate the value added by our call analysts resolving IT issues in native technical language – better relationships are developed, and a superior level of customer service is experienced by the end user. We're proud to understand not only the customer's technical environment, but also the cultural diversity of supporting stores in different countries. In line with our incident reduction mentality, being able to solve incidents quickly delivers greater uptime at the point of service for the customer, which saves both time and money. We have systems in place that direct customers' calls to the highest skilled analyst. This works the same for our territory/language specialists.
Best Managed Service Desk
Winning Best Managed Service Desk in 2016 from the Service Desk Institute was the global industry seal of approval on all the above statistics, demonstrating that this level of performance is of a world-beating quality.
Want to know more about how we could benefit your business? We currently work with leading global retail, hospitality and leisure brands, but also support logistics, and councils. Contact us here, or call 0115 904 2777.