Retail Week research, in partnership with Barclaycard and Rakuten Marketing, examines what fashion retailers should prepare for after a turbulent past 12 months in the sector. Retail Forecast 2017 Infographic via Retail Week.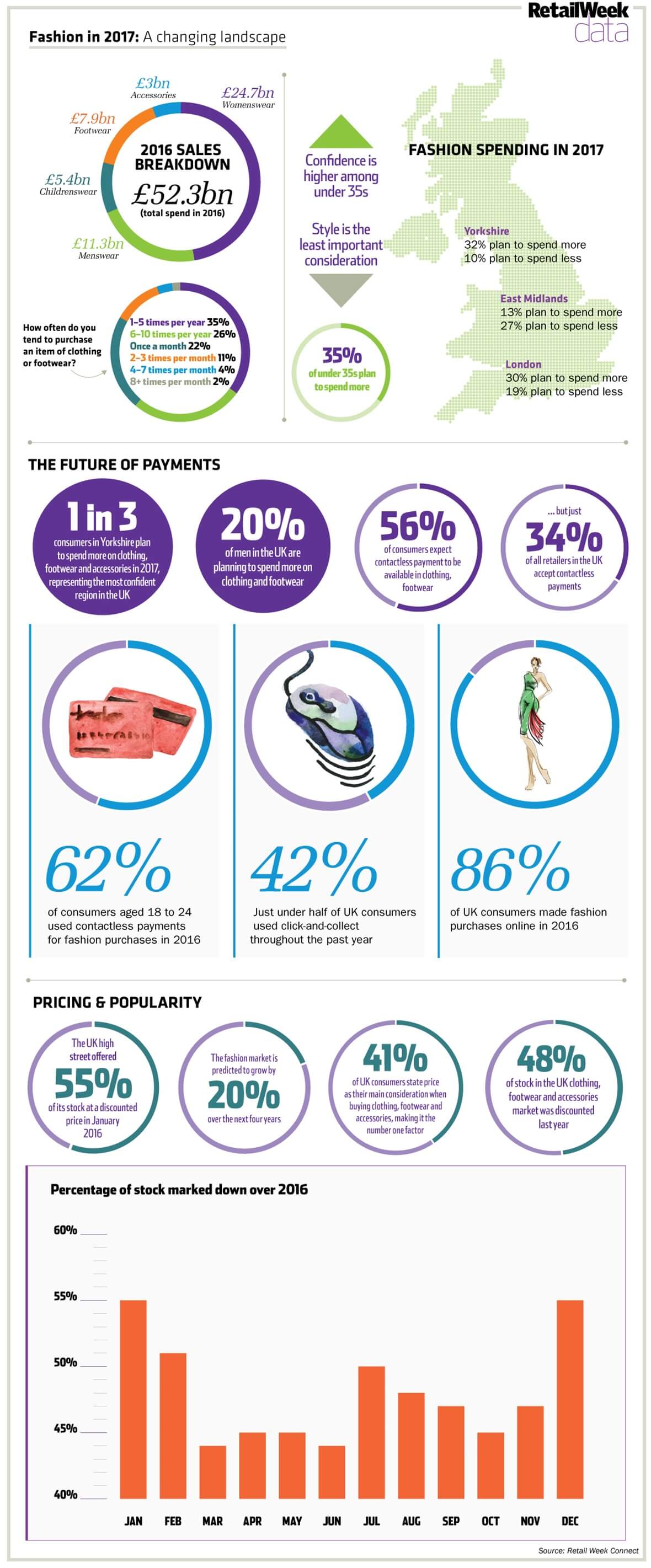 Here are our top takeaways from the infographic.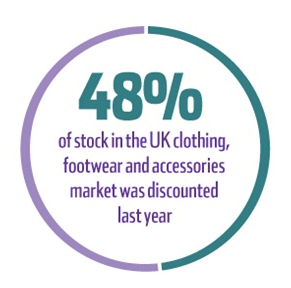 Almost half (48%) of retailers' stock in the UK clothing market was discounted throughout 2016. Sadly, this is a growing trend that must be addressed. The total market offered at least 44% of its stock at a discount in any given month throughout the year. That's nearly half of your entire inventory damaging margins. The profitability challenge in fashion retail must be tackled through the effective management, movement and sale of stock. Granted, this is difficult when price is consumers' main consideration when making a purchase, and the womenswear market is rife for discounting, but steps must be taken to bolster margins and drive full price sales.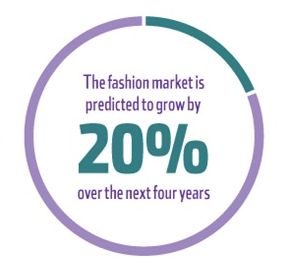 Given that the fashion market is predicted to grow by 20% over the next four years, there could not be a better time to invest in your core systems to prepare you for increased demand. Retail Assist's Merret omnichannel supply chain solution is helping retailers to increase their full price sales by making sure stock is in the right place, at the right time to fulfil omnichannel retail practice.
Location, location, location
As the stats show, customers' willingness to buy differs greatly on location, and all retailers know how important it is to monitor sales from its different channels, as well as optimising in-store stock from flagships to regional towns, analysing where stock performs best.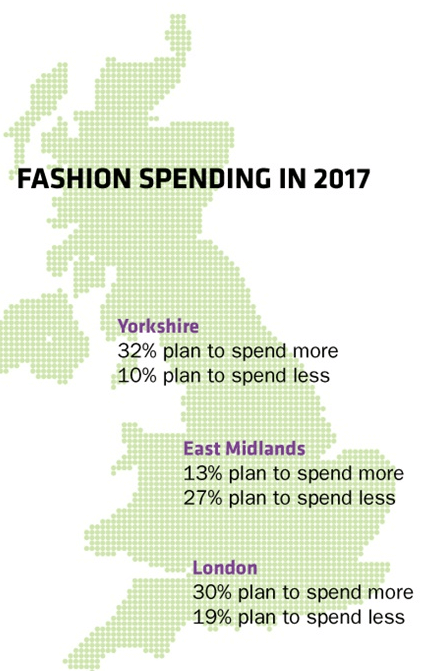 However, in order to achieve better inventory optimisation in this way, some retailers are falling short on two key requirements: the need for 100% stock visibility, and the ability to carry out stock movements in a timely fashion. Merret's real time stock availability is cited by many retailers as a strong benefit of using the solution. If you're running below optimum stock in your flagship store, for example, our Merret retail replenishment module will automatically send more stock based on your trigger levels.
Ship-from-store is also a key principal in getting the right stock in the right places. For example, your flagship store might sell out of the new range bestseller, whereas a smaller store could end up with a surplus that are difficult to sell. Rather than having to discount this stock, retailers can maximise full-price selling through using the store inventory to fulfil orders, rather than sourcing the same item from the Distribution Centre (DC). Retailers can prevent discounting in this way by selling stock with a holistic view of its inventory: just because an item might not be available in the DC, it might be hanging on a rail in-store, dressing a mannequin, or have been returned to a store. 
We're supporting 20 fashion retail brands with Merret, including ASOS, Harvey Nichols, Morrisons Nutmeg, Karen Millen and more.
For more information or to discuss the points raised in this blog, contact marketing@retail-assist.co.uk or comment below.