When we made predictions for 2020, none of us could have quite foreseen the disruption that COVID-19 was about to bring. Whilst there have been some positive developments and lockdown measures lifting recently, there has also been the implementation of local lockdowns and government advice changing to reflect the evolution of this virus' impact on our society.
It can be hard to know when "normality" might return and, as we move into the second half of the year, it's important to proactively address any issues that your business might face, whether that's right now or in the future. With our tech experts and decades of IT experience, here's how we can help.
Reduce Your IT Costs
Outsourcing your IT to us can bring cost savings of up to 30%. Our award-winning team (which you can read more about here) act as an extension of your existing team and whether that's through project support, tech support or even through our Help Desk, we can scale our offering to meet your requirements.
In fact, Nottingham City Council approached us over lockdown to help them to reach out to local independent businesses as they started to re-open following lockdown restrictions easing. Our team contacted hundreds of these businesses to help inform them of key funding available to help them to do so.
Robert Dixon, Head of Business Growth for Nottingham City Council, said: "Supporting our city's economy during this pandemic has been a key priority for Nottingham City Council, and it was the right decision to work with Retail Assist to be absolutely sure local businesses were able to access the right support as quickly as possible. We needed our independent businesses and small high street businesses – which are such a huge part of Nottingham's character – to be able to re-open safely and get central government support to maintain their presence on our high streets.
"If an extra 200 businesses accessed support, including grants, and that helped them to re-open safely, that's a massive boost for our local economy. With more and more businesses re-opening in our city centre, it also provides reassurance to local people that they can come back into Nottingham safely."
Extend the Team
Sometimes it can feel like your IT team are just fighting fires, without the capacity to plan ahead. Why not outsource to our Help Desk? Our team can support your users with any tech issues they might have, leaving you and your team to focus on more important, strategic matters at hand, so you can do more with fewer people, especially if key members of staff are on furlough.
Simon Brealy, Global Service Delivery Manager at Ted Baker, said: "Our service desk were looking after many hundreds of office based employees alongside looking after our retail partners. Since partnering with Retail Assist, we've been able to develop what (the service delivery within) Ted's IT delivers; rather than focusing on 1st and 2nd line tickets coming in across our European estate, they're now 100% dealt with by Retail Assist.
"Because of the standard Retail Assist has delivered to us, my service delivery teams have been able to focus much more on proactively supporting the business and focusing more on the project deliveries, which has in turn had a much more positive impact on the wider business."
Using Downtime
This current trading period is often a quieter part of the year, but are your systems ready for peak trading? Use this time to evaluate if projects can be implemented; our project support team are on hand to oversee everything from cloud migrations to software implementation, with our Help Desk also running projects to support whatever IT needs your business faces.
Not sure if you're ready? Our store experts have put together our COVID-19 return to trading checklist: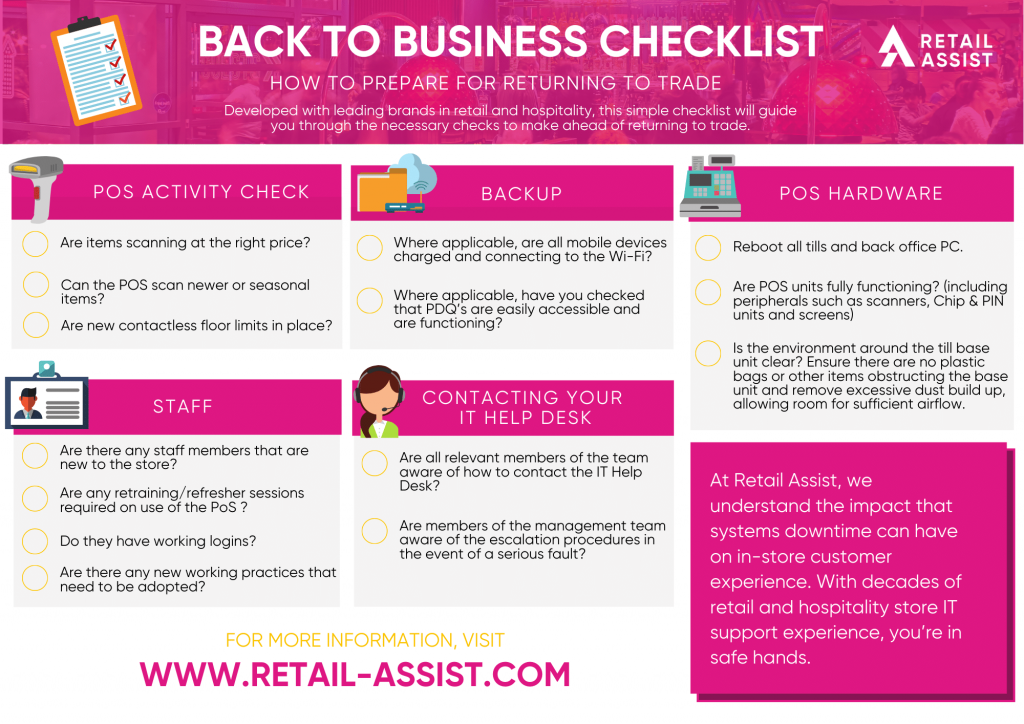 Remote Working
Many businesses have had to move their operations so that their staff can work remotely (ourselves included!). Over lockdown, we've helped hundreds of our end users to be able to work remotely, supporting virtual office locations across the country. You can read our #WFHDiaries here.
With the reality that we can't be 100% sure when offices will be "back to normal", it's vital that your digital office environments are a seamless operation for both your staff and your customers. Our friendly desktop support team are here to support your users with whatever issues they might face at home.
Want to know more about how we can help your business through COVID-19? Drop us a line here.