The UK's first coffee shop was opened in Oxford in 1652: walk down any UK high street today and you're bound to come across at least one. However, with so much competition – both from chains and local establishments alike – what does it take to grow in an otherwise busy market?
This week, we continue our video mini-series on what can be learned from independent businesses as we speak to Matt Douglas, Marketing Manager for 200 Degrees. Originally starting as a roast house, the brand expanded and now have eight shops around the country, including Nottingham, Birmingham, Leeds, Cardiff and Sheffield.
Offering a mixture of both hospitality and with retail areas within their store estate, 200 Degrees serves great coffee in stylish surroundings.
Watch the video here: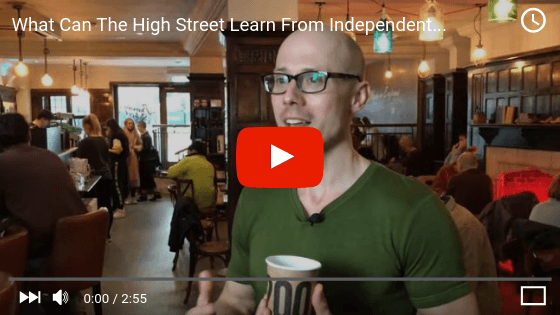 Click here to watch the video on YouTube
Matt explains: "We started off as roast house originally, then added our shops to showcase our coffee products. The shops were turned into an experience all of their own and really transform people's perceptions (of a coffee shop)."
So what's 200 Degrees' differentiator? Matt says: "We engage all the time with people around us. We run several different types of activities and events or experiences; we've got a barista school upstairs (in the Nottingham flagship store) and we're also looking at opening up our roast house to show how it goes from a raw bean to what you enjoy.
"We really want people to have an (excellent) experience every time they come into the store, from the moment they're greeted…all the way to sitting down by the fire. It's an escapism."
What advice would Matt give to larger chains? He says: "I think keep what you do simple and easy for the customer to understand: it needs to be that frictionless experience. It is the meeting and greeting people at the door – a really small thing, but making sure it's positively done and welcoming. Also, all the in-store events do give another reason to come to the high street other than beyond (just) drinking a coffee.
"We are going through a growth phrase and we are learning and understanding how difficult it is (to stay true to the brand whilst growing). But one of our key values is to make sure we retain that community aspect and that focus on the experience."
Watch Matt's video to see more insights into how 200 Degrees approach their store strategy and don't forget to subscribe to our YouTube channel here to stay up-to-date with our latest video releases.