It's unsurprising that retail sales in 2020 haven't quite met what was forecast at the start of the year. So, it was positive to see that after non-essential retail stores were allowed to open again in June, that retail sales in July have seen a promising increase.
The Retail Gazette reported that retail sales across the UK grew and also experienced a second consecutive month of growth in July. According to the latest Retail Sales Monitor from BRC and KPMG, sales increased by 3.2 per cent last month compared to an increase of 0.5 per cent in July last year.
There were also other encouraging signs that retail is growing, too. On a like-for-like basis, UK retail sales increased 4.3 per cent compared to July 2019, when they had increased 0.3 per cent from the preceding year.
So, with consumers embracing retail purchases and with life slowly returning to some normality, it hopefully shows positive signs for the rest of the year ahead. With the end of the year already in sight, are your stores ready for peak trading?
Whether you're currently fully operational or whether you're gradually re-opening stores, Black Friday and the Christmas trading season is not far away. We've developed our Back to Business Checklist that prepares your stores for not only returning to trade now, but checks that they're ready for peak trading, too.
We worked with some of the leading brands in retail and hospitality to design this simple checklist that helps your store and site staff to make the necessary checks that will ensure their store operations are fully optimised.
Our Back to Business Checklist covers:
POS Hardware
Backup
Staff
POS Activity Check
Contacting the IT Help Desk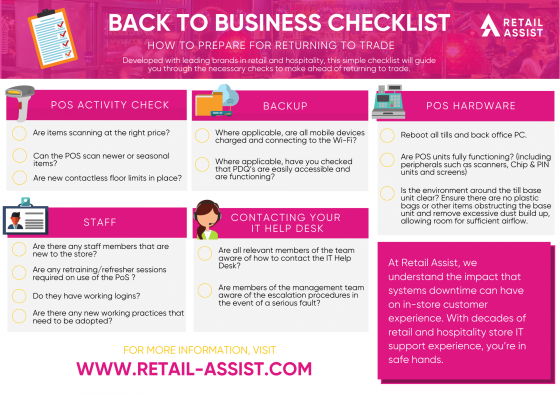 Award-Winning Store Support
Our IT Help Desk operates 365 days a year, 24 hours a day, meaning no matter what your opening hours, help is only a phone call away.
If your teams come across a problem whilst using the Back to Business Checklist, have they got the IT support to help them resolve the issues? With our Help Desk's IT specialists, you're in safe hands (in fact, we think they're the best in the business – check out our awards here!). Acting as a central point of contact for all IT issues, we take complete ownership of any problems encountered in-store, including managing third party relationships so that your store teams don't have to, so that whatever happens, we can keep you trading when you need to rely on it most.
Do you need an IT Help Desk you can rely on? Click here to find out more.