Every year, Retail Assist picks one charity to be our 'Charity of the Year'. Whilst we have supported many different charities with many excellent causes, this year, we decided to support Emmanuel House: a Nottingham-based charity that supports homeless and vulnerable adults.
Throughout the year, we have held a variety of fundraising events, from our Great British Bake Off cake sale to taking over 200 Degrees' kitchen in their Carrington Store. So, for Christmas, we decided to end our year with a fundraising extravaganza!
With our generous clients and partners donating gifts, members of staff from across all of our sites bought raffle tickets in the hope of winning a fantastic prize. With the draw taking place just before Christmas, a brilliant time was had by all as our CEO, Dan Smith, compèred the proceedings, raising over £875.
So, cue drumroll…this year, with all of our fundraising events combined, the grand total raised for Emmanuel House is just over £1,250!
A huge thank-you to all of our colleagues, customers and partners who have been involved in raising this impressive amount – it is very gratefully received.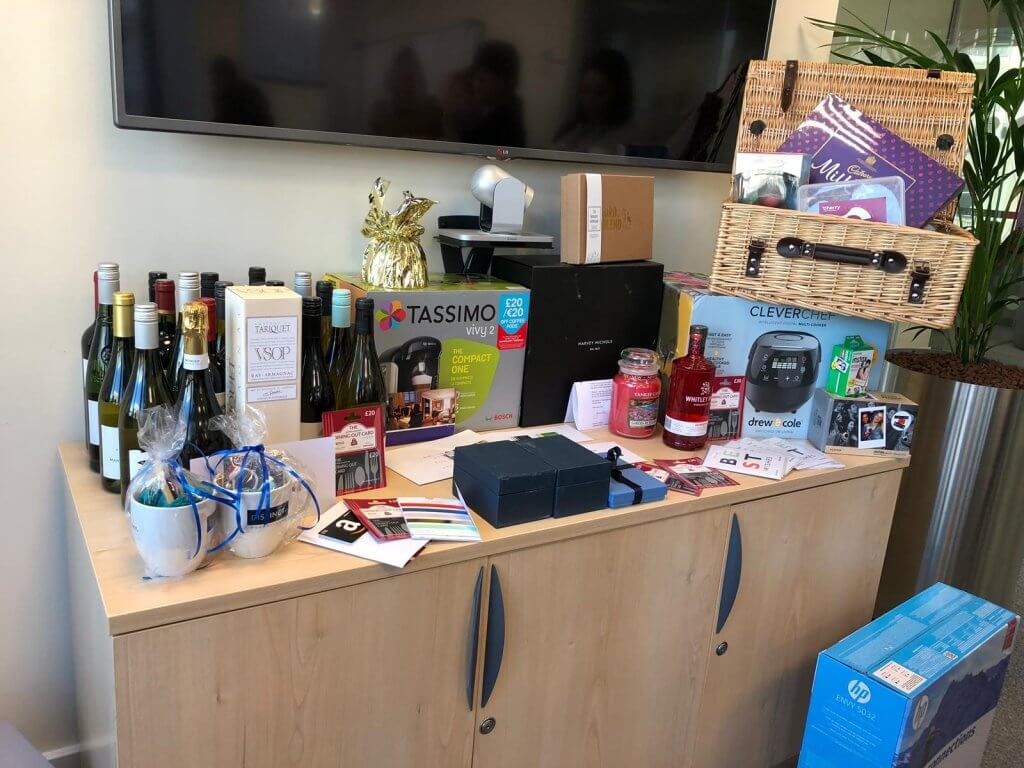 Just some of the amazing raffle prizes that were up for grabs!
One More Gift
Along with the fundraising raffle, staff at our Nottingham Head Office also brought in food donations to give to Emmanuel House.
To top up the donations, the Marketing Team battled against the festive crowds to complete a festive supermarket haul! The team filled their trolley with essential items such as tinned tomatoes, non-biological washing powder, tea and stock cubes.
Afterwards, they took all the donations to Emmanuel House's support centre, meeting their Marketing Assistant, Gill.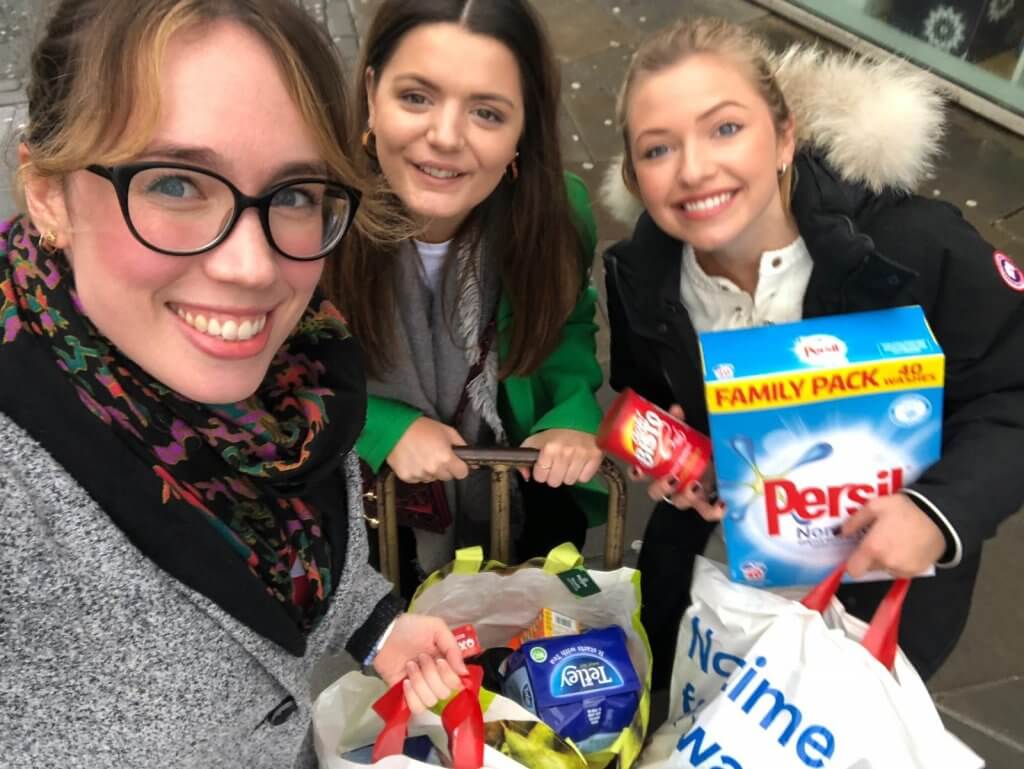 The Marketing Team with all the food donations
A Warm Welcome
Being met at the door by Emmanuel House's service users, the team were greeted with smiles and offers of help, with people jumping up to help carry in the bags of food.
Speaking about Emmanuel House's provision, Gill said: "Whenever people turn up, they are guaranteed a warm welcome."
The service provision at Emmanuel House was certainly impressive. With a pool table, a large eating and seating area, and a bustling kitchen, the centre felt cosy and welcoming.
Gill said: "Often homeless people have lost an entire support network of family, friends and colleagues. Because of this, isolation is one of the biggest issues that they face; we have a range of services, with choirs such as Streetwise Opera and the Opera Dudes, Art Group and the Women's Group to encourage socialising and to build trust."
Eating times also provide a great way to chat and connect with others, and Emmanuel House's Head Chef, Joe, cook a meals from scratch, using fresh ingredients – often for over 70 people at a time.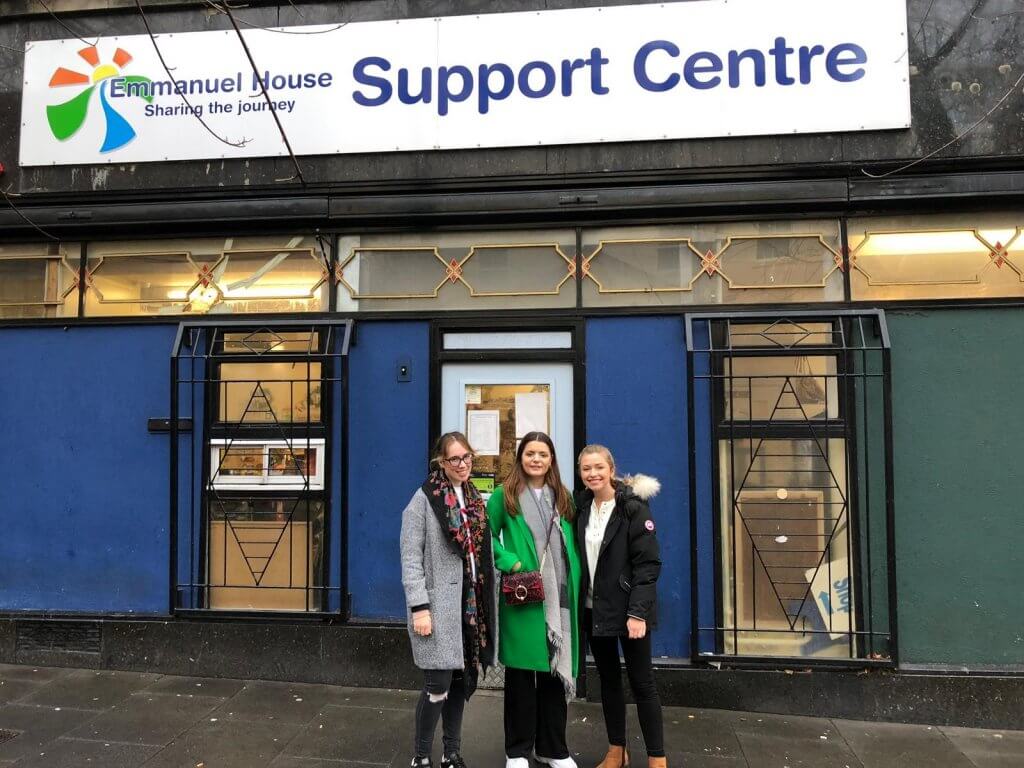 Outside Emmanuel House's Support Centre
Gill explained: "December is our busiest period for donations as people's thoughts turn to those less fortunate over the festive season. However, as our centre is open all year round and donations can start to wane over the warmer seasons, this is our opportunity to stockpile for the coming months. Our volunteers are involved in processing the donations, along with also providing valuable admin support, running our charity shop and working in the kitchens. Without them, we couldn't run the service. They are the true unsung heroes."
Gill added: "Whilst there are many terrible things in the world, it is always so heart-warming that there are always people that want to help. So thank you, Retail Assist – and Merry Christmas!"
If you'd like to support Emmanuel House, more details can be found on their website here.