Retail Assist and 200 Degrees join forces for another Great British Bake Off 
We've seen chocolate week, bread week and biscuit week. But nothing we've seen so far on the Great British Bake Off can compare to Helpdesk Call Analyst Kay Thompson's chocolate cake extravaganza.
Kay, the winner of the Retail Assist Bake Off, was chosen by a panel of judges including representatives from the Nottingham Post, Nottingham-based charity Emmanuel House and coffee shop chain, 200 Degrees.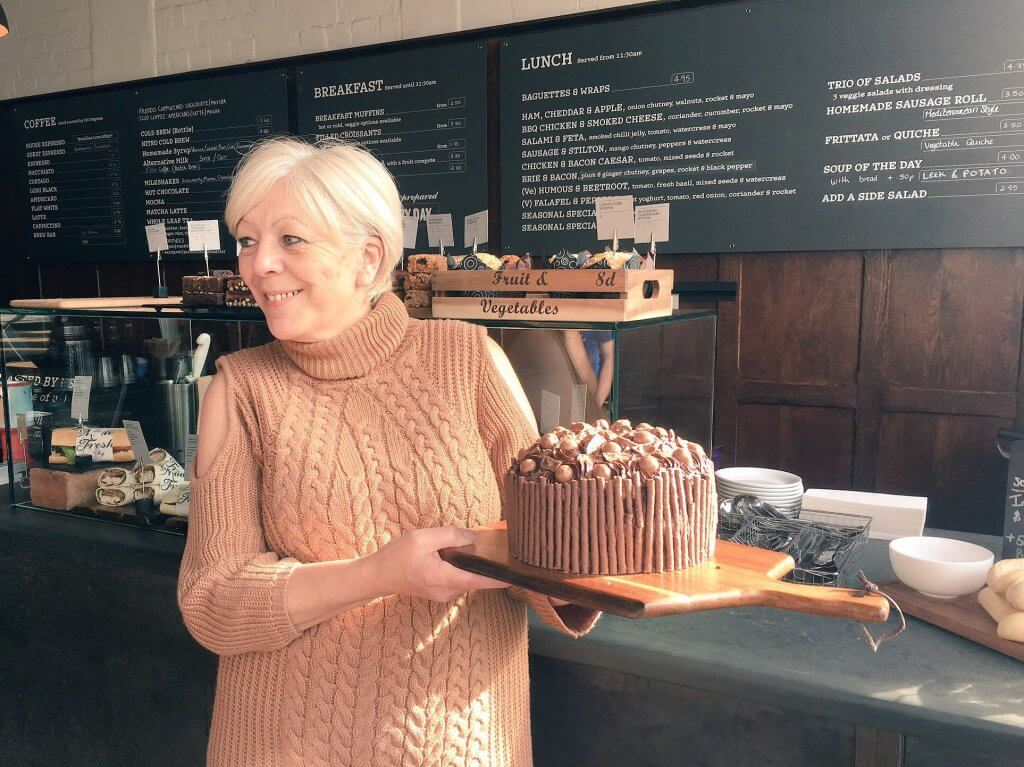 Kay said: 'When I found out that I'd won the Retail Assist Bake Off, I was so shocked. My daughter says I should go into baking but I just find it therapeutic. I like losing myself in the kitchen and chilling out for a few hours.'
After arriving at 200 Degrees' Carrington Street store, she donned her apron and instantly got to work in their kitchen – although, impressively, without a written recipe in sight.
Kay said: 'I've made this cake so many times as it's one of my grandchildren's favourites. I know it off by heart.
'They'll often put an order in for cakes and cupcakes, and I love making them.'
Kay's star bake included a Victoria sponge topped with chocolate icing, along with Malteasers, Orange Matchmakers and Minstrels.
Joined by 200 Degrees' Head Chef, Lucy Hickling, Kay built up her chocolate masterpiece over three hours in the professional kitchen, and, after chilling overnight in the fridge, it was placed on sale the next day.
Lucy said: 'The moment we saw Kay's original cake, we knew it would sell well. People eat with their eyes and this cake looks great, as well as tasting delicious. Our chocolate treats generally sell the best, so I'm expecting this cake to do well!
All the proceeds from the sale of the cake are being donated to Emmanuel House.
Lauren Howatson, Marketing Manager for Emmanuel House, also popped down to view Kay's efforts.
She said: 'We're so grateful for all of Kay's hard work today and also for the generous donation by 200 Degrees. We're currently doing lots of fundraising to prepare our service in the run up to winter, which is accessed by many homeless people and vulnerable adults over winter.'
If you would like to buy a slice of Kay's show-stopping charity cake, head down to 200 Degrees' Carrington store. But you might want to hurry… we don't think it'll stick around for long!
Thank you to Kay for all her hard work and also to Lucy for letting us steal the 200 Degrees kitchen!