We can't quite believe NRF Expo was two weeks ago. Whilst we were in The Big Apple, we took the liberty of investigating the best of New York's store experiences – purely in the name of research, you understand…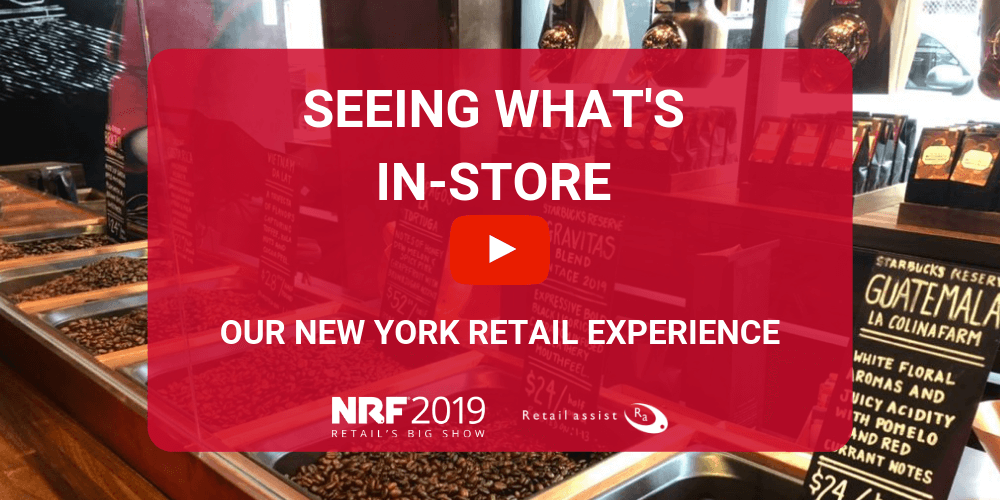 Click here to watch the video on YouTube
Nike Store
The Nike store on 5th Avenue was impressive to say the least. With vivid displays, clued-up store assistants and contemporary music, shoppers could scan QR codes attached to mannequins through the Nike Store app to have the whole outfit delivered to a changing room in all the correct sizes.
Along with this, shoppers could also book a slot to design their own trainers, with the base style of trainer changing regularly.
The Nike store was a great example of how retail is using technology to support the customer experience, rather than to detract from it. The knowledge that their store assistants held and explained was really impressive, and everyone that we spoke to came across as educated in Nike stock and processes, whilst being welcoming and friendly.
Starbucks Reserve Roastery
One of only four in the world, this Starbucks is a little bit more than your average coffee shop.
The store offered an immersive coffee experience that stirred the senses; roasting their coffee beans on-site gave gorgeous, rich aromas, with tasting stations and staff dotted around to inform and assist customers on the many different coffee beans that they could try.
Different sections of the store gave different experiences; the retail section had many Starbucks merchandise, all with an unusual – and sometimes cheeky – take on coffee paraphernalia. The café (both upstairs and downstairs) had an array of coffees from around the world, with many drink varieties, sweet and savoury treats and a luxurious interior with open fires and metallic surfaces made for a modern yet snug place to meet up with friends. This massaging of the five different senses made for a thoroughly enjoyable experience that almost made you forget that you were inhabiting a retail space.
Five Below
"Any suggestions for where we should visit whilst we're in New York?" we asked the shop assistant.
Maybe she'll recommend a restaurant, or a landmark, we thought.
"Well, I haven't been, but everyone's talking about Five Below," she replied. "It's just opposite our shop and it's meant to be really fun!"
It seemed slightly odd that – out of all the possible things that one could do to pass the time in New York – that a store assistant would recommend another store – especially one that was in no way affiliated to her own store.
It seemed odd further still to recommend a store that followed the premise that everything in there was $5 and below, like the American version of Poundland.
And yet, when we visited, we could see why it would be one experience to talk about. When we entered the foyer, two store assistants were laughing and playing tennis with each other. We then took the escalators into the downstairs level where the shop floor was.
Here, the till assistants took it in turns to use a microphone to talk to shoppers. Anything from "Hello and welcome to Five Below, have a good day…" to "When I say five, you say 'below'! Five! Below! Five! Below!" would periodically come over the sound system, where upbeat music pumped out and colourful displays were dotted around. There were many simple touches but the overall effect was charming and cheerful, you couldn't help but smile or laugh at some of the announcements whilst in there. Whilst the use of technology was minimal, they had really considered the customer experience and the atmosphere that customers encountered whilst shopping in there.
Three diverse stores, but three binding experiences where the common denominator was the positive methods used to engage the customer.
For more of our industry insights, subscribe to our blog here or watch our vlogs here.