Last week I made the most of retail and outdoor hospitality reopening, took a day off and hit the shops on Leeds high street. How was this different (or not) to pre-pandemic?
The first thing that really struck me was the excitement of being out, we were thrilled to be able to do this. The key word for me for coming out of this pandemic is 'grateful'. I think we're all coming out of this grateful for anything that we are able to do. The atmosphere on the high street was good, not only because stores were open, but I felt that the outdoor dining really added to the atmosphere, it almost felt continental, and is something that I hope stays.
In visiting the shops, we saw that there were the usual queues outside Zara and Primark, we also paid a visit to one of our clients, Harvey Nichols. It has to be said that each store we visited was really well managed in terms of number of people allowed in store, sanitizing and safety in place. For example, in Harvey Nichols you were able to try on sunglasses, however after each one was tried on and handed back, it was sanitized by the in-store assistants. As a result you knew that you were safe trying them on, so were others after you. But it wasn't just that, store and hospitality staff were really happy and friendly, and shoppers were pleased to be out.  Much has been said about a return to the roaring 20s, and there was certainly a feeling of optimism, and happiness in the air. My husband and I certainly made the most of it and made up for lost shopping time, purchasing new to outfits to wear, and filled our bags. No more legging purchases for me!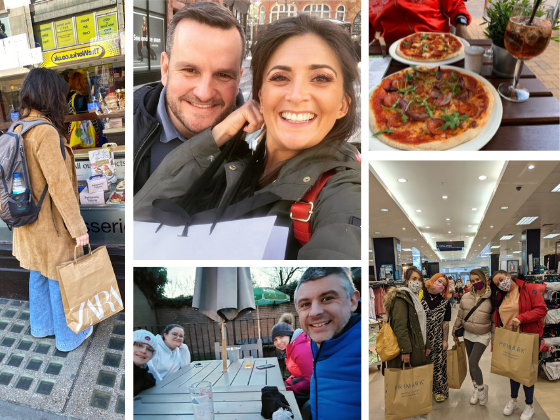 Here's what myself and other Retail Assist colleagues got up to when retail, leisure and hospitality opened up last month
What are the stats saying?
I'm happy to say it isn't just me that is feeing this. Retail Week reported that retail soared 46.3% on a like-for-like sales basis (when compared to April 2019), at which point they had increased 3.7% from the previous year.
BRC chief executive, Helen Dickinson said:  "Many fashion retailers saw an uptick in sales, particularly in outerwear and knitwear, as the public braved the cold spring weather for outdoor meeting and dining with friends." 
KPMG head of UK retail, Paul Martin added:  "Clothing retailers, who have been particularly hard hit by store closures during lockdown, were the biggest beneficiaries of pent-up demand as consumers headed out to restock their wardrobes in anticipation of social events being back on the agenda. 
"Online sales continued to grow across most categories, but at a reduced rate as many consumers stepped away from their computers to head outside. This maybe has come as a surprise, although it does showcase that some changes in consumer behaviour are here to stay."
For more stats and insights into the return of retail, download our whitepaper 'Life After Lockdown: What's Next For Retail' here.
What are retailers saying?
Recently I've attended several roundtable events, webinars and had numerous conversations with clients, editor and retail influencers and I would say there are two key themes coming out of these discussions:
The importance of data
Delivering a great customer experience in store
Speaking to retailers, there has been a real resurgence on reopening and the items being purchased have once again flipped from leisurewear back to dresses, or polo shirts and items that would be worthy of a day/night out… when we actually get the weather to do so!
Where retailers have made personal approaches to their customer base, basket sizes have grown and relationships have developed. For example, some of our retail clients ran personal shopping events after trading hours, and not only have they increased spending value, but developed strong and loyal relationships with these customers, increasing customer life time value.
Other retailers doubled on marketing spend during lockdown, which has massively added to their customer database. It's now time to maximise on those growing data lists with more personalized approaches. This is what makes the difference and gains the repeat custom and increased basket size you are looking for. For example, if you can track that a marketing campaign has provided really good traffic to your website, but then isn't actually converting in to purchased products, then why? It's the data analysis which is going to provide the why, and enable you to make changes. It will also enable you to understand the needs and behaviour of your customers, the strengths and weaknesses of your portfolio of products so you can take appropriate action.
With regard to technology in store, it really does have to work, there is no point having a big screen in store that doesn't add to the customer journey. The difference between in store and online, is that everything on a website is designed for the ultimate user experience, and making it as easy as possible to purchase.
As Kate Hardcastle MBE, said on the Business Leader Events Webinar recently, "There's no point having tech for techs sake in the store.  Go through the journey as a consumer and question whether it actually adds value".
It's time to reflect on what's working, what isn't and really look at what your customer wants from you, at a time where customer behaviour is changing. As a retailer, start to consider how you drive the behaviour you want in your customer by looking at the things they want from you.
If you want to talk to us about experiences gained so far, and how we could work with you or introduce you to some of our partners to add value to your customer experience, then get in touch here.