It's certainly been a busy year here at Retail Assist. Having received private equity investment from Foresight Group in 2017 and with nine new clients having joined within the last 12 months, it's never been a more exciting time to work within our company.
However, following so many new clients on-boarding, we need additional resources to support our company's significant growth.
Fancy working in a fast-paced, exciting environment? Here are just a few of the many varied careers on offer within Retail Assist.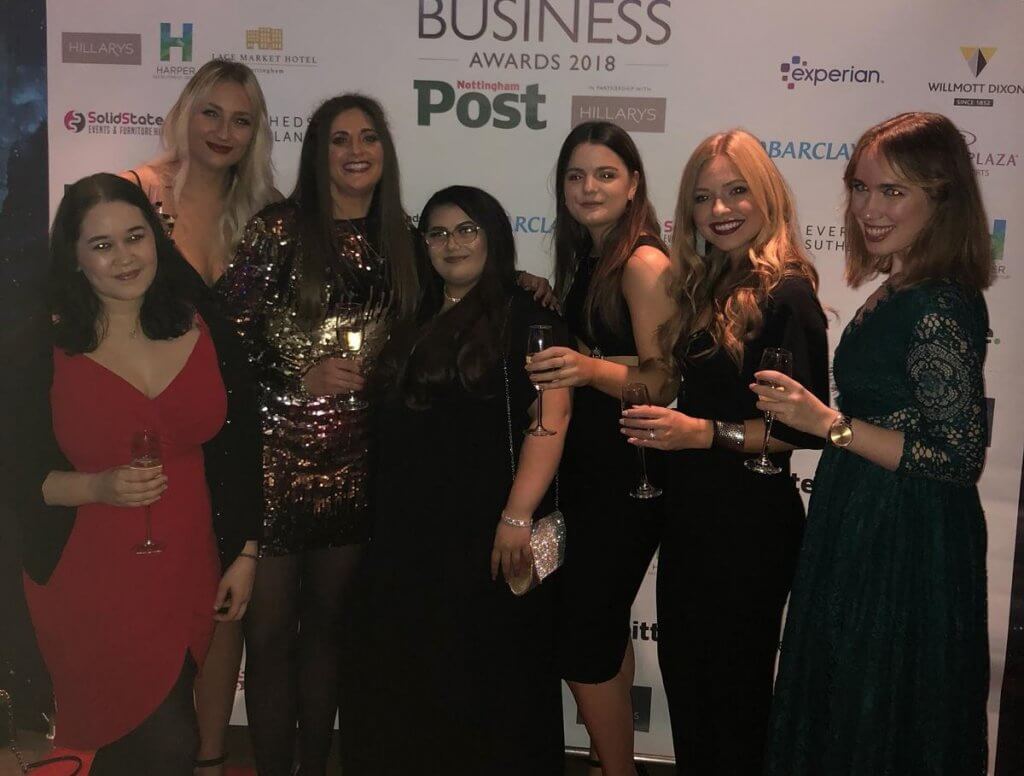 Our team at the Nottingham Post Women In Business Awards this year!
Digital Marketing Executive
If you know your SEO from your PPC, then you could be the right person for this role. Working within a charismatic Marketing team, the Digital Marketing Executive drives all digital marketing activities, such as website content, ecampaigns, video production and optimising all content, along with managing external agencies.
Alex Broxson, Head of Marketing, said: "Following rapid growth in client acquisition over the last 12 months, we are looking to expand on our digital growth, as our business success is expected to continue.
"The field of marketing is ever progressing and we are looking for someone with drive, passion and with the energy to push our digital offering into the future.
"If you want to be part of the digital revolution, then get in touch!"
Bilingual Helpdesk Call Analyst
Hello, bonjour, ciao! Our busy Help Desk operates 24 hours a day, 365 days a year, and also speaks 12 languages. The role of a Bilingual Helpdesk Call Analyst includes answering incoming emails and calls to provide technical support to our many varied clients, working with the leading names in retail and hospitality.
Tina Hand, Head of Systems Support, said: "On Retail Assist's Help Desk, we are a vibrant, energetic and enthusiastic team.
"We are looking for people who have customer-focused experience, especially within the retail and hospitality sector. With our 'can-do' attitude, we want to hear from problem solvers who have the innate ability to investigate issues further to provide the best possible customer service."
Technical Consultant
Systems, servers and software! A multi-faceted role, it requires a high level of multiple server platforms and their associated technologies.
Kevin Greathead, Chief Services Officer, explained: "We have created a new opportunity to expand our Technical Consultancy team. The role entails helping our customers to identify new opportunities to deploy IT systems with the successful candidate responsible for designing new solutions, costing up opportunities, and helping to deliver the technical solution.
"The required skill set is varied, if you think of all the systems used by our many clients, as this new role may touch on any given element. We also need to ensure that we are bringing new and usable technology to our customers, so the successful candidate will need the skill to learn quickly, have an inquisitive mind and also be an analytical thinker."
People and Progress
Rae Hayward, Head of People, said: "Here at Retail Assist, people are our greatest asset. The evolution of the business has also led to an evolution of career development and opportunities. We're very keen on developing our people and making sure that we've got the right person, in the right place, at the right time."
Dan Smith, Retail Assist's CEO, said: "The progression within the company is something I have experienced myself. I joined as Managing Services Director, with the main drive being to introduce processes of a larger businesses to Retail Assist, so that we could grow. From here, I became CEO Services, eventually transitioning into the position of CEO.
"The variety of work and the challenges we face make every day exciting. It is a real pleasure to work with a fantastic team – people I know I can rely on. That's the real enjoyment in life."
These are just a few of the many diverse roles currently on offer at Retail Assist. For more of our roles, including those at our Nottingham, Northampton and London sites, please vist our careers page, or alternatively get in touch via careers@retail-assist.co.uk.