This week, Retail Assist is very happy to celebrate turning 20!
Having begun in June 1999, we have grown from a handful of team members serving just one client from an office in Bingham, Nottinghamshire, to 250 colleagues in multi-location offices across the UK, providing global scale support.
We set out to provide Managed IT Services to retailers. From our initial support provided to Adams Childrenswear, our company rapidly gained an impressive client list in which we could name both Harvey Nichols and Whistles amongst our brands supported.
We expanded our offering to provide software solutions to manage and centralise stock for retailers, and manage the data exchange between retailers and their trading partners, globally. At the same time, we extended our services to the hospitality sector, winning clients such as Vue Cinemas and Pizza Hut Restaurants, providing them with IT Help Desk support.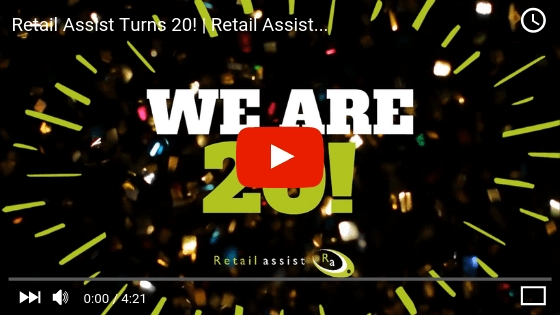 Click here to watch the video on YouTube
Winning multiple industry and global awards along the way, Retail Assist has grown significantly over the last 20 years and we have continued our growth trajectory. With investment gained in 2017 from the Foresight Group, we have continued to grow and have welcomed 18 new client brands, developed further software for the digital growth of retail, been shortlisted for 11 awards over the last two years, and have seen our turnover continue to grow, which is key to enabling investment in new solutions and services – something which is of prime importance to our team.
Over the years, we have supported many of our clients through the challenges of the retail industry and have supported them to expand internationally, with 53% of our Help Desk analysts now multilingual, as well as being listed as the global winner of Best Service Desk CX Award at the Service Desk Institute Awards.
Whilst we see long-term customers like Oasis, Warehouse, Karen Millen, Coast, Harvey Nichols and Paperchase continue their partnership with us, we have also seen new brands such as Ted Baker and Seasalt join our list of brands supported. We've come a long way since our initial support providing managed IT Services to just one brand, to now providing services or software solutions to 49 brands and counting.
Celebrating with cake, balloons and a bottle of prosecco for every team member, colleagues had an opportunity to reflect on old photos and share memories.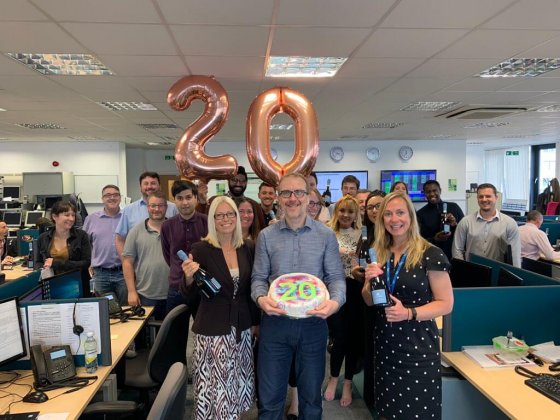 Chief Executive Officer, Dan Smith, says: "We come from many backgrounds, have many different skills and levels of experience, but we all know that when we step into the work environment of Retail Assist, we are working with colleagues who will go out of their way to help us to be successful in delivering great services and solutions to our clients. Reaching this milestone is testament to our team's commitment and drive and I look forward to what the following decades will bring."