Retail Assist is delighted to announce that we've won the globally recognised 'Best Service Desk CX 2019' award at the Service Desk Institute's (SDI) Annual IT Service and Support Awards.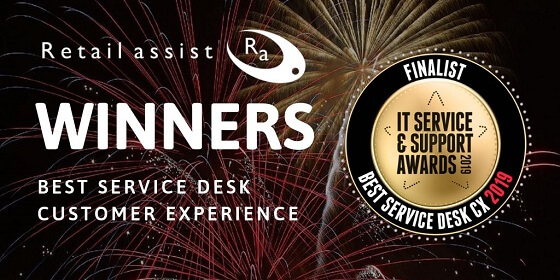 Held on Tuesday 26th March 2019, the SDI's annual awards identify the excellence of outstanding service desk teams and individuals, and celebrates their success. Having won Best Managed Service Desk in 2016, Retail Assist was keen to re-enter with a host of innovations to its service desk provision. Priding ourselves on the excellent provision we offer our customers, we entered Best Service Desk CX (Customer Experience) 2019, an award which highlights the amazing work upheld by our service desk team every day.
Along with this, we were delighted to also be a finalist for 'Best Small Enterprise Managed Service Provider 2019', which recognises the wealth of services offered across the variety of our Managed Services.
It was a wonderful evening and Retail Assist had representatives from across various parts of the business to enjoy the exciting gala dinner event at the Birmingham Hilton Metropole last night.
The Service Desk Institute looks for excellence, professionalism and innovation in the service desk industry, with entries from across the IT support sector.
Dan Smith, CEO of Retail Assist, commented on the achievement: "We are extremely proud to have won the Best Service Desk CX award and to be a finalist for Best Small Enterprise Managed Service Provider, gaining both national and international recognition for our work. We pride ourselves on delivering excellence to our customers who include many of the leading retail and hospitality brands. This is a wonderful achievement which celebrates our team and gives them the recognition their hard work and dedication deserves."