Managing a myriad of digital channels can seem like an overwhelming task. How do you meet the needs of the various selling channels, with all of their differing product information requirements, whilst ensuring that product content is rich, varied and accurate? With the need for speed to market and a strong online presence more important than ever before, there's a lot of stress on retail teams to get it right first time – and to get it right quickly.
We believe that product content doesn't have to be complex, which is why we developed OMIO PIM. Based on our decades of experience supporting the retail industry, we've developed a solution to take the heat off your teams today and to meet the needs of your future selling strategy.
How easy is the OMIO PIM process? Pretty simple, actually. Meet the first two stages of the process below.
Initiate
In this stage, basic product information is gathered. In fact, it's so easy, this simple initiation phase takes about 45 seconds to complete. Adding core product information can be done right at the start of the product journey, linking to existing ERP solutions to help raise purchase orders, for instance. With our retail background, it was important to us that our PIM solution could connect to retail-specific software and links to other aspects of the product journey, making life much easier for your teams.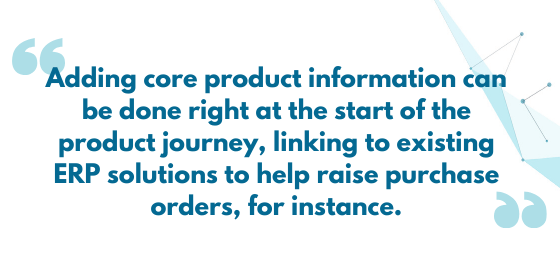 After adding data such as the style, colour and size scales, you can have products ready and available across your business for other teams to add information to and work on. OMIO PIM also has AI-style pre-population of fields, ensuring data integrity, which can be automatically pre-populated by user role or product style – the choice is yours.
Want to know more about the Initiate stage? Watch our video here for more information.
Enrich
In the next stage of the process, more information is gathered and in greater detail. In fact, teams can add up to 10,000 product attributes, making your product content relevant and captivating.
Once your basic product information has been inputted in the Initiate stage, you can add in more attributes in any language or alphabet. Whilst it's obviously important to add as much detail as possible, one of our favourite things about this stage is that multiple team members can work on the product at the same time. Gone are the days of waiting for spreadsheets to be sent to you, like some badly designed pass the parcel and instead teams can embrace a product flow that is far more collaborative. This also means that one team member isn't waiting on another team member to come out of the document or spreadsheet, or waiting for their information before gaining access to add in other information. This expedites the whole process, smoothing the transition from the initial product stages to sending the product information out to market.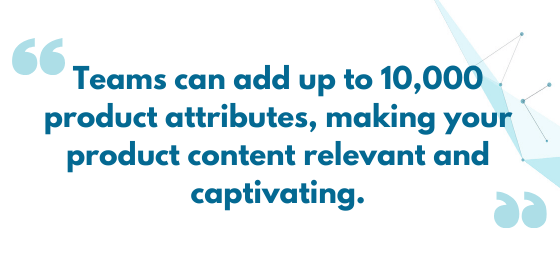 There's also a lot of flexibility in this stage. Has a key influencer or celebrity worn your product and you want to reference this in the product description? No worries – just update the product description as you wish and it will automatically update your sales channels and third-party systems. Simple.
Want to know more about the Enrich stage? Watch our video here for more information.
We're very proud of OMIO PIM and the many ways in which it can help retail teams to bring their products to market, faster and easier. Our OMIO team would love to show you a demo of our solution – click here to get in touch.