We are delighted to announce the launch of our new solution, OMIO PIM.
At a time when retailers need it most, OMIO PIM is a software solution that helps retailers control product information and its release to market via a centralised system.
Rather than having to juggle multiple spreadsheets that only one-person can access at any time, it gives retail teams one point of entry to gather and enrich a product's data across multiple teams, before publishing the information out to all desired digital selling channels.
Alex Broxson, our Head of Marketing, said: "It's an exciting time for our company as we can help customers both new and existing to enable their digital selling strategies and move their business forward. We've been working closely with retailers and experts in the sector to bring a software solution to market that overcomes the key frustrations, challenges and delays in getting products out to market. In today's challenging retail environment, it's vital that products have a solid, widespread digital presence; OMIO PIM not only future-proofs a retailer's digital strategy, but it also enables a positive customer experience.
"It enables teams to create product content for multiple marketplaces, in the formats required, providing a unique customer experience per channel."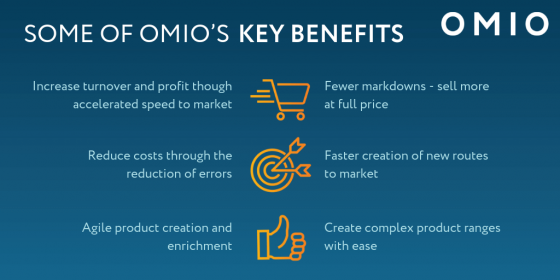 OMIO PIM's first client has already completed UAT (User Acceptance Testing) and is approaching their go live date, with exciting client details to follow.
Lisa Bowden, Head of Business Development – Solutions, said: "It was important to us to bring to market a business-led solution, supporting businesses to grow without significant investment. This is the right product at exactly the right time to harness quality information about your products and push them out to market via the explosion of channels available.
"With our expertise in retail, we ensure key systems are connected with ease and enable businesses to provide a relevant product experience to customers and channels, proving ROI quickly with increased sales conversions and market expansion."
Click here to read how OMIO PIM can support your digital aspirations.