Written by Dan Smith, Chief Executive Officer
As we move quickly through spring into summer, it is useful to reflect upon some of the good news that is coming our way and also where we are in the two years since the new investment in Retail Assist – and 20 years since Retail Assist began!
Since 2017, we have welcomed 18 new client brands, developed software for the digital growth of retail, have been shortlisted for 11 awards and seen the turnover of Retail Assist grow, which is key to enable us to invest in new solutions and services – something which is of prime importance to our team. Not only this, but we have supported many of our clients through the challenges of the retail industry and have supported them to expand internationally, with 53% of our Help Desk analysts now multilingual, as well as being listed as the global winner of Best Service Desk CX Awards at the Service Desk Industry Awards. A busy couple of years!
Whilst we see long-term customers like Oasis, Warehouse, Karen Millen, Coast, Harvey Nichols and Paperchase continue their partnership with Retail Assist, we have also seen new brands such as Ted Baker and Seasalt join our list of brands supported. We've come a long way since our initial support providing managed IT Services to just one brand, to now providing services or software solutions to 49 brands and counting.
The size of our team has also grown to 250 members, with investment in many areas – Client Services, Sales, Training and Development – and new roles to support our future growth in Technical and Desktop Services. We find ourselves with members of the RA team working at the heart of our clients in Karen Millen, Oasis, ASOS, amongst others, and delivering services and solutions to 68 countries worldwide in seven languages, including Italian, Spanish, German, French, Swedish, Dutch and English.
But it's not just our people that are being developed: we've been working hard to develop new software for our new brand, OMIO, with the first module, OMIO PIM, being released later this year and a client signed up ready to go with the solution. We are thrilled to support our clients – both old and new – in their future digital growth aspirations. We will also be releasing OMIO Tablet, a solution to enable stores to become mini distribution hubs, allowing store staff to accept online orders to 'ship from store' and our own 'click and collect' solution, which can be integrated into any ERP solution, all from a simple and user-friendly application.
However, whilst the ambition to grow is important for us to remain a vibrant business, it is also very important to understand what determines our current and future success.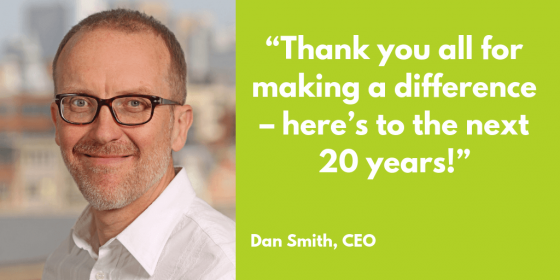 So what is the DNA that runs through the successful Retail Assist team? Taking personal responsibility for the happiness of our clients, challenging ourselves to improve every day so that Retail Assist can better meet the demands of our clients and remembering that we have to be a team of teams across our whole company to be successful.
As we head towards our 20th anniversary, it's good to remember what defines Retail Assist: our culture.
We come from many backgrounds, have many different skills and levels of experience, and we all know that when we step into the work environment of Retail Assist, we are working with colleagues who will go out of their way to help us to be successful in delivering great services and solutions to our clients.
Thank you all for making a difference – here's to the next 20 years and the many successes that it will bring.