Life as Retail Assist's Marketing Officer
Meet Benedict, our Marketing Officer, who has been with us at Retail Assist since July. Benedict is an economics undergraduate from Nottingham Trent University undertaking a yearlong placement with the company.
I was ecstatic to be chosen for this placement, but it was a scary jump at the same time. My knowledge base was economics, and I lacked any knowledge in marketing, but I was keen to broaden my horizons. To my relief, Retail Assist was a breath of fresh air after 2 years of study, especially since my creative side was feeling undernourished.
Day to day
I've really enjoyed overseeing the company's social media, through managing it, I've seen how the B2B side of social media works, something that I wouldn't have learned without being in the industry. I'm grateful to be respected and trusted to represent one of the faces of the company; allowing me to put on my creative hat every week and come up with new angles and messages to talk about our products and services has been useful. It also means that attention to detail is one of the key skills I have developed.
The other half of my job, research, surprised me in how much I enjoyed it. Market research has been great for building my industry knowledge; reading about retail technology, the movements in the market, and searching for good prospect companies. All this has taught me that I'm really interested in what keeps retail ticking and moving forward, as it's an extremely fast paced industry.
Life at Retail Assist
The team I work with are very professional, it's been great learning from them all; even if I'm not involved with everything they are doing, I've been exposed to the entire sales and marketing process from end to end. As a placement student, my team understand that I'm still learning, all remembering when they were in a similar position to myself which has made me feel welcome.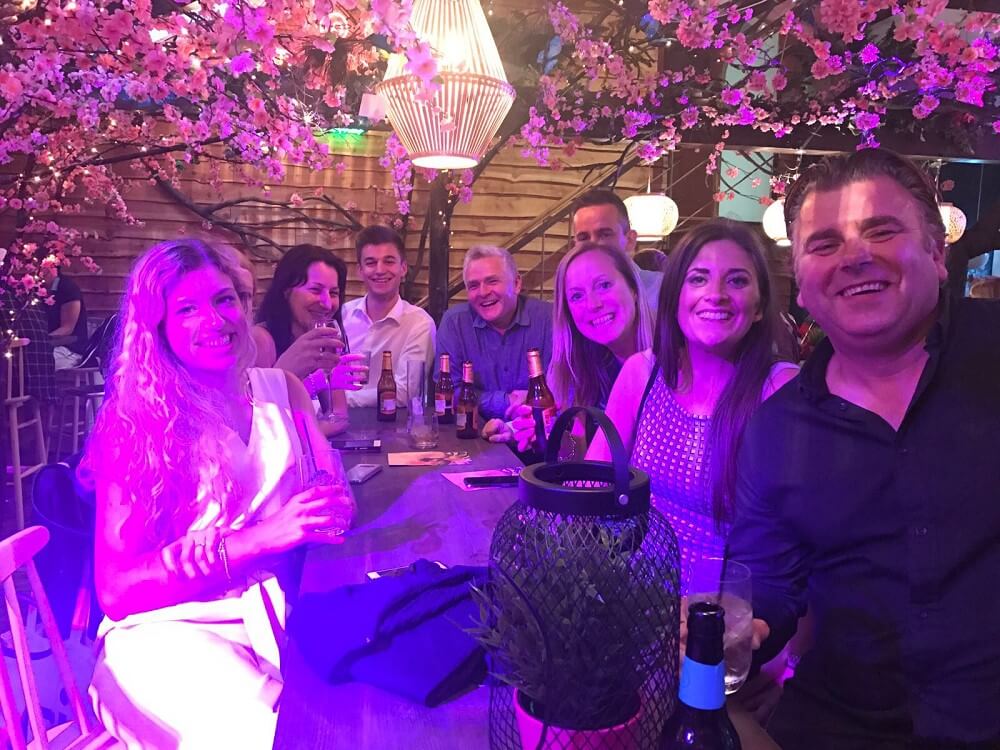 Enjoying drinks at Hockley Arts Club with the team
The Retail Assist working environment is so vibrant, the open plan office encourages me to work closely with my colleagues, who are all really sociable and good to chat with. Even when I've got work to do, it's always good to be up to date on Love Island… The social side also continues after work, everyone is up for going out for the occasional team drink.
Getting a placement in Nottingham city centre worked out perfectly for me, I'm able to remain involved in university life which I understand is a luxury, as many other placement students end up in different cities. This meant that I didn't have to give up being the president of the uni climbing club, I got to live with my friends in a cheap city centre flat, and of course I was still able to make it to the occasional Ocean social.
Despite the occasional stress on a few deadlines (marketing really means you have to juggle a lot of different plates and manage multiple priorities), these 4 months have flown by considering how much I've learned in this time.
I'm looking forward to finding what more I've got in store this year and I'm definitely glad to have some quality work experience on my CV.
Guest Blog written by Benedict Schofield.
We're currently recruiting for our 2018-19 Marketing Officer from Nottingham Trent University, so please get in touch via marketing@retail-assist.co.uk should you be interested in joining us from July 2018.