For the purpose of this blog and infographic, Gen Z refers to those aged 17-24, Gen Y 25-38 and Gen X 39-58.
A lot can happen in three years. Whether it's a new relationship, a proposal, a marriage, a new house or a new arrival, our lives and circumstances are continuously evolving.
In June 2016, we surveyed members of Gen X, Y and Z to ask them about their shopping habits and, in particular, how Gen Z's approach might dictate the shopping culture of the future. With the youngest of those surveyed then being 14 years old, much will have changed in their lives over these last three years and the ways in which they spend their money.
So, with 630 survey respondents and over three years later, what's changed?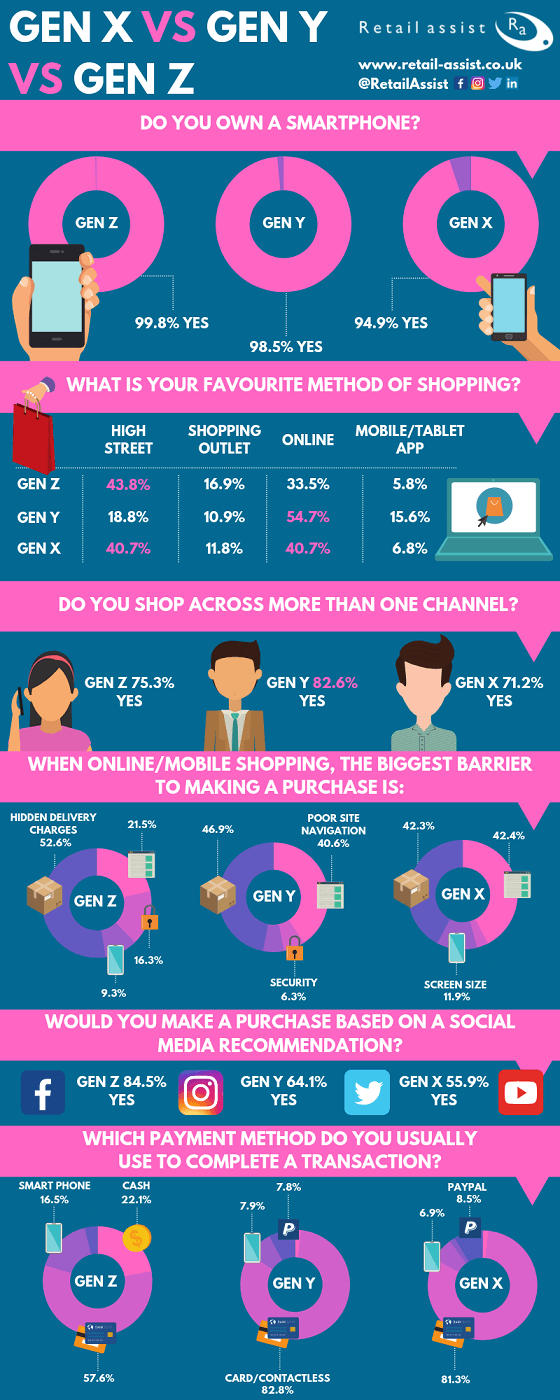 Analysis
With so many news stories proclaiming the death of the high street, there's been a lot of doom in the retail news. However, our survey found that, encouragingly, Generation Z still strongly favour the high street, with 43% saying it was their favourite mode of purchasing. Gen X was split evenly between online and the high street, with 40.68% apiece, whilst Gen Y were more in favour of online. However, with this particular group entering further on into their careers, this could be down to convenience rather than preference of experience.
There was also a large rise across multichannel shoppers. Those who might, for example, buy online but return in-store has risen across all generations, highlighting the need for a strong omnichannel offering from retailers. Ensuring that products are always in stock is integral to keeping this experience fluid, allowing all generations to seamlessly move between all selling channels. Implementing an efficient retail stock management system is a way for retailers to meet these expectations.
Interestingly, all three generations agreed on several other matters, saying that delivery was often their biggest barrier to making a purchase online, that their preferred method of payment was paying by card and that all three generations like to make shopping part of their day out, also involving going for coffee or having lunch out. However, it was Generation Z, at 84.46% that overwhelmingly chose to spend their time in this way, highlighting the importance for retailers to embrace hospitality opportunities within store environments.
Finally, both Gen Y and Z said that they would make a purchase due to a social media recommendation, with 67.19% and 69.52% respectively. Whilst this figure may have slightly reduced for Gen Z and slightly increased for Gen Y, the numbers are still incredibly high for both age groups. Retailers must be in a position to capitalise on this, ensuring that they use software such as a PIM to respond quickly to adapt their online content and also to ensure consistent messaging across all channels.
For more industry insights and research, subscribe to our blog here.