For the purpose of this blog, we define Gen Y (Millennial) as those between the ages of 25-39 and Gen X as ages 40-54.
Whether it's going the extra mile or simply providing a warm welcome, everyone has different expectations of what constitutes 'good' customer experience. However, what most people would agree on, is that at a basic level, customer experience should give people exactly what they want and how they want it.
Yet sometimes this is easier said than done; retailers can never assume they know what their customer wants and whilst most retailers will have a target audience in mind, there is no 'one size fits all policy' when it comes to delivering excellent customer service. Whilst some businesses will inevitably centre their approach on appealing to one particular generation exclusively, it is entirely possible to take an approach that ensures both Gen X and Gen Y can be catered for, without risking losing the attentions of one particular generational audience.
Generation X (age 40-54)
It could be easy to make hasty assumptions about those born between 1965 – 1979; whilst do they have a slight lead in the stats as the generation with the highest household income, they are also the most likely to describe their finances as challenging, with 35% describing their situation as "tight" or "struggling" (Mintel). Whilst Generation Y might be in a similar situation regarding finances, they may just have a different outlook regarding money, savings and the desire for experiences or items now rather than having savings in the bank. According to the Office for National Statistics, 53% of 22-29 year olds are living with no savings at all: this has increased by 12% when compared to the same age group 10 years ago.
This need for thriftiness is reflected in Gen X's retail habits; Gen X like loyalty schemes, with one study finding more than 88% of Gen X respondents saying they use them to save money. Whilst finances do impact their spending choices, Gen Xers also face time pressures that can impact their lifestyle. 28% of Generation X say they don't have time to relax, with 20% also saying that time spent with their partner or family suffers.
Other misconceptions surrounding Gen X is that they aren't as tech-literate as their Millennial counterparts, yet the reality is that 89% of Gen X own smartphones (around the same percentage as Millennials) and, as a generation, they access Facebook just as regularly as younger generations, with just a couple of percent difference. So far, so similar. But there are differences in inter-generational social usage; for channels such as YouTube or Instagram, the amount of times the sites are accessed is much lower than when compared to younger generations. It's unlikely that this is because Gen X don't 'understand' the technology but is perhaps more of a reflection of the reasoning behind the usage. It could be suggested that whilst Millennials and Gen Z look to these particular channels for tips and suggestions from influencers, it may seem that, for Gen X, they're less interested in using social media in this way.
Generation Y, AKA "Millennials" (aged 25-39)
As the generation that has grown at a similar rate to the technology around them, it would also be easy to make assumptions about Millennials. There have been many newspaper reports about Gen Y being glued to their phones, when the latest research suggestions that actually 59% of Gen Y are most likely to have cut down their mobile phone usage in the last year. In fact, Lara Marrero, strategy director at design firm Gensler, says: "The largest misconception out there is that the younger generations are attracted to tech in physical space. This might have been the case 10 years ago, before everyone had the latest iPhone device in their hand."
Millennials are also highly experience-centric, with 36% of those surveyed saying they're more likely to treat themselves to an experience, rather than shop for clothes or shoes. The trend is thought to be driven, in part, by the desire to share experiences on social media, showing that the reach of influencer marketing doesn't just stop at retail items.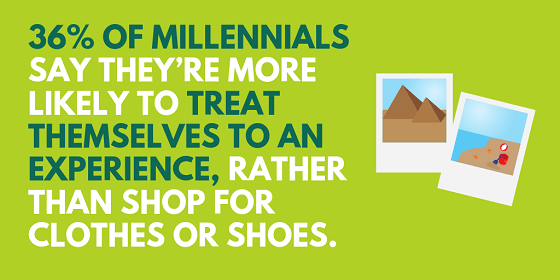 Putting the Research into Retail Practice
So, what does this mean for retailers? For Generation X, considering reasonable price points, quick, pain-free payment processes – whether in-store or online – and also understanding how they like to communicate and utilise technology, whether that be through specific social channels or using aspects such as email, will be key to delivering a great customer experience.
For Generation Y, it provides retailers with an opportunity to engage with their audience on different levels. One way is to offer in-store experiences, perhaps holding hospitality experiences or activity events, such as Primark's in-store beauty bars or Sweaty Betty's sports classes. Another way would be for retailers to broaden their social media strategy by including travel or leisure content. For both generations, connecting the online and offline worlds will offer a seamless omnichannel customer experience, that audiences can connect with whenever is convenient for them – however and whenever they want to shop.
Keep an eye out over the next couple of weeks when we'll be publishing our latest Gen X versus Gen Y versus Gen Z research. Don't want to miss out? Sign up for our mailing list here.