Decades ago, retail was somewhat simpler: there were certain trading hours and shops on the high street opened at those times to trade to their, probably locally-based, customers. Flash forward to 2019 and it's all very different; whilst retailers don't have to be everywhere, they need to ensure that they are wherever their customers are. Put simply, if old-fashioned retailing saw the customer come to the retailer, now retailers must be seen to go to the customer. In a world of convenience, the retailer must be ready to support the customer in any way that the customer wants to interact with them.
Here lies the basics of omnichannel retailing; retailers must have thorough digital provision across social media, the web, email marketing campaigns and targeted ads whilst also linking this with their store estate. And it's not just the customer that benefits from this level of convenience: research by the Harvard Business Review suggests that omnichannel customers spent an average of 4% more on every shopping occasion in the store and 10% more online than single-channel customers.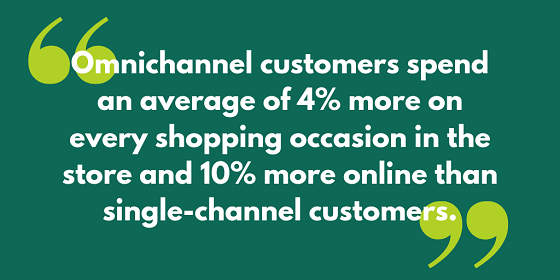 In order to be successful, omnichannel retailing must be a seamless experience for customers across various platforms. However, another aspect for consideration is exactly how users operate as they go between the platforms and channels, as understanding this provides opportunities for retailers to engage them further in the sales process. So, who are omnichannel customers and how do they shop?
What type of omnichannel customers are there?
Well, there's no quick answer to that question! The beauty of omnichannel retailing lies in the many variations and permutations of opportunities for the customer to interact with the consumer.
With this in mind, the omnichannel customer's journey could begin in several ways. One simple option is for the customer to find what they want through the retailer's website. Whether this is being shopped via a computer or mobile device, they will ultimately be led there by a search engine, a personal recommendation (perhaps via social media) or simply their own past experience with the brand; from this point, they can be drawn into other purchases and taken towards other items via 'complete the look' or 'customers also bought' sections.
Another option is perhaps more reactionary; after viewing a product on an influencer's account, the customer might see an item they love, then follow this up via a link embedded within a social post, which takes them to the already-downloaded app; alternatively, they could make a note of the style and visit the retailer's website – or, indeed, visit their physical store to try it on first – to complete the purchase.
However, another omnichannel journey might have even more brand touch-points. The customer could see something in-store but leave before making a purchase; they might then spot the same item in an email campaign, click on the link to follow it to the website but deciding, again, to leave the sale, before noticing it via targeted ads some days later. The customer still needs some further persuasion and could, after seeing it being worn by their favourite influencer, return to the store to complete their purchase, coming full circle.
But it's not just these many combinations; customers could convert their purchase via mobile or computer devices, using websites or apps, see the item in a concession (whether that be in-store or online), or even receive information via staff equipped with tablets that can be used to finalise the purchase, obtain details about the item or order the customer's item for home delivery. Along with this, loyalty cards and reward schemes can be checked and added to across all platforms, providing another opportunity for upselling or prompting sales.
Why is omnichannel a customer's preferred route to conversion?
Customer expectations – specifically, the desire to meet them and to make their experience as good as possible – are a key reason for omnichannel being the best way towards the final goal of conversion. Customers are able to shop on their commute whilst sat on the bus or browsing whilst unable to sleep on some rainy Tuesday; a brand must be bigger than just its store estate or just its website in order to communicate with a customer base that has grown larger than those once-sturdy perimeters.
How can retailers provide an effective omnichannel experience?
There are a few ways that retailers can aid this seamless experience. It might seem easier to view online and bricks-and-mortar sales as two separate things, but the two are much more fluid than that, as the customer dips in and out of both worlds, using them to research, to experience or to prompt before completing a sale. Engaging in software which gives you central control, visibility to a single stock pool and also to be able to move stock to locations where it's selling quickly ensures that more stock is sold at full price, whilst keeping also customers happy.
Want to hear about how we can support your omnichannel provision? Get in touch here or drop us a line at info@retail-assist.co.uk.