Although government restrictions might be in force, here at Retail Assist we don't let a complication like social distancing get in the way of a good party! Whilst this year has certainly brought us all many challenges, there are many wonderful things to celebrate and we've loved the opportunity to spend time with our amazing colleagues across the business. Here's what we've been up to!
Merry Quizmass! Our Christmas Quiz
Every month, we hold our Retail Assist quiz, with different members submitting different rounds. This usually takes place through online submissions as many of our team members are answering calls from customers. However, for Christmas, we decided to hold a live quiz, by our very own quizmaster!
With several rounds including Christmas trivia, Christmas No.1s (including some surprise throwbacks to unlikely musical success stories such as Mr Blobby and Renée and Renato!) and the 'Danger Zone' (get all questions correct and you win an extra 5 points. However, get just one question wrong and you lose all your points for that round…) our winner was Marie, our Head of Finance. Congratulations to Marie and thank you to everyone who took part!

Christmas Disco
Our usual company-wide Christmas parties are the stuff of legend, but this year things are obviously a little different. We all took part in an online Christmas party and wherever our colleagues were watching – be it in their kitchens, lounges, offices or spare rooms – we transformed the room into a dancefloor!
Hosted by Discos For Grown-Ups, DJ Simon played our song requests with everything from party classics to disco tunes, 90s club anthems to the obligatory Christmas songs!
Taking turns on the Zoom 'dancefloor', it was such a fun evening. Have a look at some of our sneaky photos below!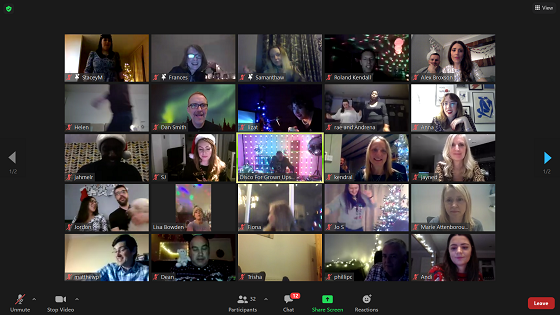 Christmas Fuddle
Every year, our various offices around the UK hold their own Christmas 'fuddle' (it's a bit of Nottingham word, meaning when everyone brings in some food to share around!) We usually wear our Christmas jumpers and in previous years have also held our annual raffle, raising money for Emmanuel House.
Whilst it wasn't possible for everyone to celebrate in this way, we still made time to meet up on Teams, to eat lunch together and to wish everyone a happy Christmas before we spend time with our families over the festive season.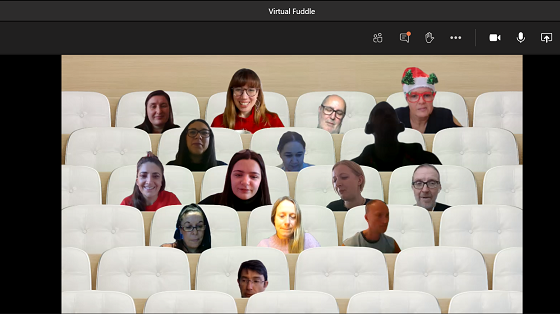 And, although we couldn't organise our charity raffle, we're still showing our support to Emmanuel House; earlier this year, we were thrilled to sponsor the centre for a day and we're delighted that we're able to do the same again for 2021.
Emmanuel House provides support to homeless and vulnerable adults in Nottingham and, with this year having hit many, many people financially, the centre needs our support now more than ever. If you'd like to join us in showing your support, you can donate to their winter appeal here.
Thank You!
Finally, thank you to all our colleagues, customers, suppliers and partners for your support, hard work and collaboration this year. We hope that you all have a wonderful Christmas and a happy, prosperous new year.