Warm showers, a hot meal and a strong support network might be essentials that many of us take for granted. But, at Nottingham's Emmanuel House, all of these things come as part of the vital service that they provide to the city's homeless and vulnerable adults.
In December, Retail Assist took part in Emmanuel House's Lunchtime Scheme, where businesses could sponsor a December lunch. After a visit and tour of the centre by Retail Assist's Chief Executive Officer, Dan Smith, Head of Marketing, Alex Broxson and Communications Lead, Anna Murphy, they found it to be a very humbling and emotional day, understanding the stark reality that many people face daily.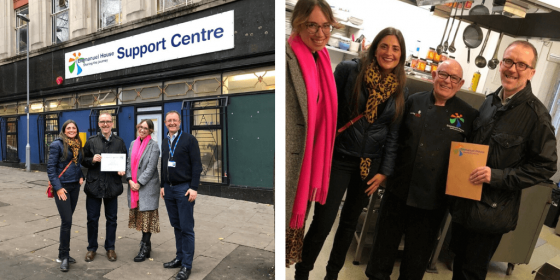 It costs an average of £1,400 per day to run the support centre and, following the December visit, Retail Assist sponsored this amount to fund the centre for one whole day on 1st February 2020.
And now, Retail Assist's Dan Smith has a challenge for other businesses, too.
Dan explained: "Retail Assist has been supporting Emmanuel House for many years now, in reflection of the incredibly important work they do. It was a privilege to contribute towards their daily lunch service and, as a result of our visit, we decided to pay for the centre's costs for the 1st February. I want to strongly encourage any other business to take on the 1st March – and hopefully the rest of the year! So, we want to know… who else out there will join us?"
Denis Tully, Emmanuel House's Chief Executive Officer, added: "We are delighted that Retail Assist has pledged to cover the cost to run our Support Centre on 1st February: it is very much appreciated. We provide a range of support services aimed at giving practical help to prevent homelessness and enabling people to recover from homelessness. The donation will contribute to these support services along with basic services including food, showers and laundry.
"Emmanuel House is an integral part of the plan to reduce homelessness in the city of Nottingham. With the help of business support, such as this generosity shown by Retail Assist, we are able to continue to help people out of homelessness. We'd like to thank Retail Assist, not only their financial support, but also for helping to raise our profile within the business community. More and more Nottinghamshire companies are now getting involved to help and it's great to see how our community of supporters are growing. It is this business support – and the support of the local community – that makes the difference."
If you'd like to support Emmanuel House, please visit their website here.