Black Friday 2020 is on the 27th November – only 11 days away now – and this year it's more hotly anticipated than ever before, as most of us are stuck at home with not much else to do! For the past six years, we've conducted our annual Black Friday survey and, whilst we've asked many of our usual questions, we've added more questions to reflect the current COVID-19 situation and how it might affect consumer spending and behaviour.
This year, we surveyed over 1,200 people and were quite surprised at the results…
Scroll to see our results infographic and for our market analysis.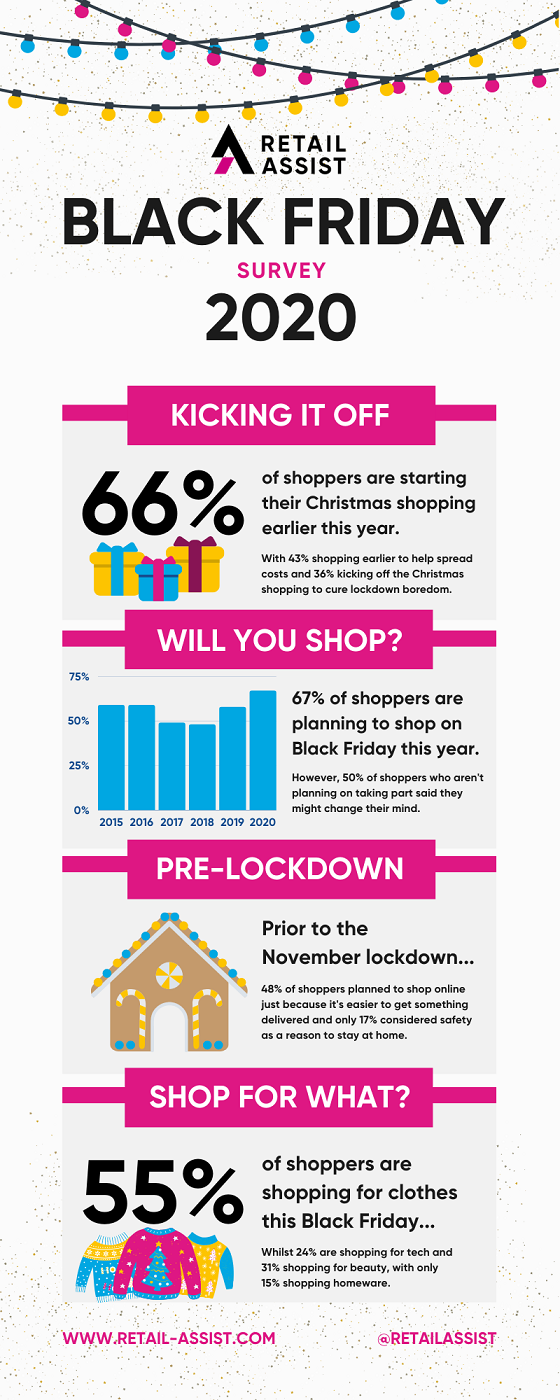 Our Top Takeaways
Christmas Shopping
Whilst the majority of people (59%) said that Black Friday doesn't usually kick start their Christmas shopping, 66% of people said that they were looking to start Christmas shopping earlier this year. In a year when many people have faced furlough, reduced hours or job losses, it's perhaps unsurprising that 43% of people said that this was a budget-related decision, so they could spread the cost out. However, interestingly, the second most popular reason people chose was that it gave them something to do; as harsher restrictions were brought in in the run-up to Christmas, shopping from your sofa has become entertainment as much as necessity.
Shopping Habits
This year, a whopping 67% of people said that they planned to shop Black Friday this year – a huge 10% rise on last year. Whilst lockdown restrictions have been placed on non-essential retail until 2nd December at the earliest, there's been a shift in how consumers want to shop. With the choice to go into shops taken out of consumers' hands, there seems to have been a shift in the desire to return to bricks-and-mortar. We asked our respondents how they would have shopped Black Friday prior to the recent lockdown restrictions and whilst 71% of people said they planned to shop online last year, this year that figure had shrunk to 58%. Likewise, last year, 3% of people planned to solely shop Black Friday through physical retail, which had risen to 8% this year, and when asked who would be shopping online and in-store, the number of people had risen again to 34% (only 26% last year). Whilst digital currently offers much convenience in terms of accessibility and delivery options to people who have no option to shop from home, it's positive to see that perhaps consumers are missing what the in-store experience can offer them.
Alongside this, it's also interesting to see a rise in the number of people who said that they 'get carried away' on Black Friday; whilst the majority of people said no, 40% of people said that they can get carried away with all the discounts – an increase of 20%.
What will people be buying?
Every year, technology items have always been the most popular choice – but not this year. Clothes were the standalone winner at 55%, with beauty buys at 31% and technology shrinking to 24% of respondents.
In 2019, the British Retail Consortium found that November clothes sales were up 6% for the Black Friday period, a feat that looks to be matched – if not surpassed – this year.