November can only mean one thing – Black Friday is imminent! With just 19 days to go before Friday 29th November, our annual survey is here to predict this year's trends and spending habits.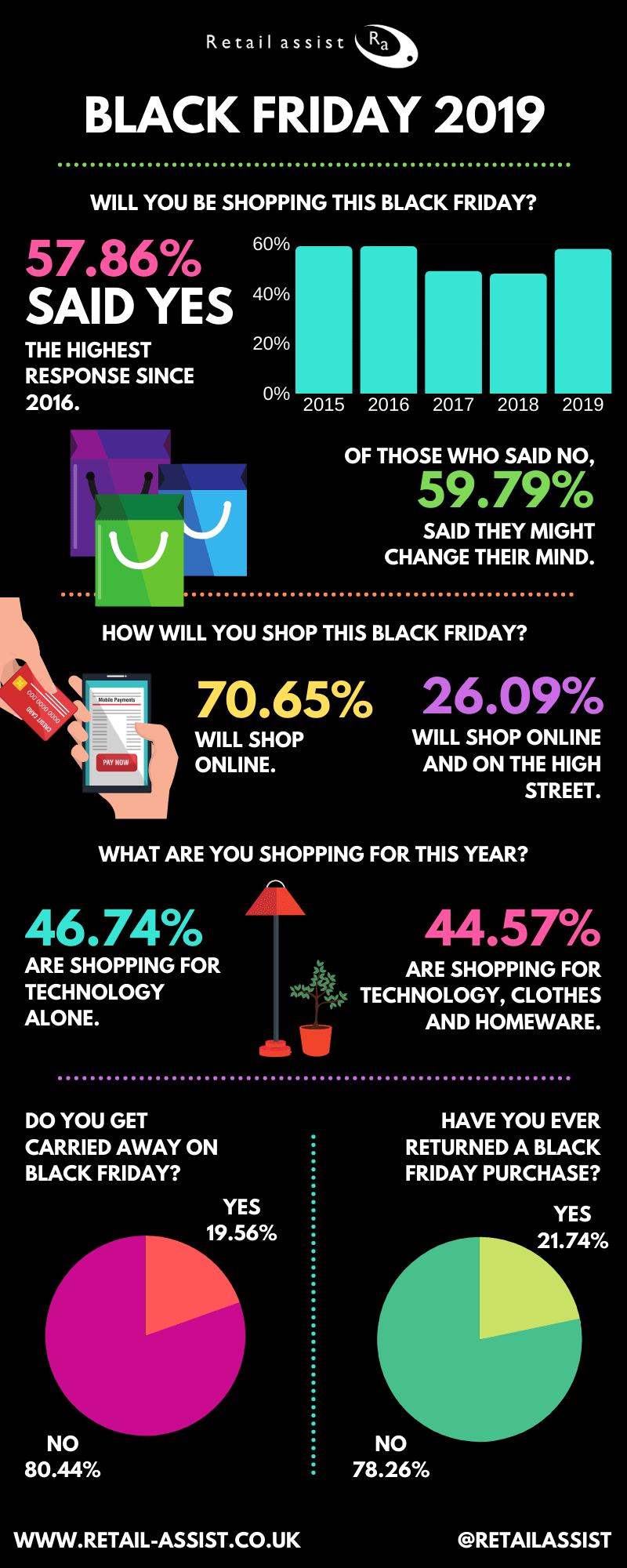 Top Takeaways
This year, our survey indicates a rise in the people planning to bag a bargain. In fact, 57.86% of those surveyed plan to take part this year – the highest response since 2016, and a sharp rise from 48% last year.
For the first time since we started our survey five years ago, we asked the people who said they weren't going to participate why they gave that answer. Interestingly, of the people who said no, 59.79% of those said that they might change their mind, which aligns with Mintel's reflections from last year; Mintel claim that 58% of Black Friday buyers delayed making a purchase until they had seen the promotions, suggesting that perhaps the figure of those taking part might be even higher this year.
So, how are they going to shop?
Our survey predicts that online is set to be the biggest winner, with 70.65% of people saying they plan to shop digitally. As Black Friday is a normal working day, this is perhaps not that surprising, as people turn to online shopping for convenience, no matter whether consumers are sat at their desk, on the bus or even whilst still in bed. However, whilst it might seem that high street shoppers are a considerably lower figure this year, standing at 3.26%, a much more promising 26.09% of people plan to combine both online stores and the high street. Perhaps this is where people might be converted to make a last-minute purchase.
What are people going to buy?
Year on year, technology is the most popular trend, with some big discounts to be found both online and on the high street. Our survey suggests that 2019 will no exception, with technology purchases set to be the most sought-after at 46.74%. However, that being said, 44.57% of people said that they're on the lookout for technology, clothes and homewares; 2018 saw people making more purchases but spending less, suggesting that perhaps smaller ticket items found in fashion retail and homewares could fare a little better.
The Latest Shopping Trend? Shrewd Shoppers
Our survey also indicated that shoppers appear to be getting more savvy; 80.44% of people say that they don't get carried away on Black Friday purchases – a 5.44% increase from last year. Similarly, 78.26% say they haven't returned a Black Friday purchase, again suggesting that much research has gone on beforehand.
Are your stores ready for peak trading? Click here to view our peak trading checklist.