What was retail footfall in April 2017? Latest research from BRC Springboard reveals that over the last three months, footfall has increased 0.7% – marking the first positive three-month average since May 2014 and the highest since February 2012. Overall, footfall in April increased by 1.6%, enjoyed its fastest monthly growth since March 2014. The inclusion of Easter and Bank Holidays in April will have contributed to such big numbers, however despite this, the picture over the last quarter has been largely positive.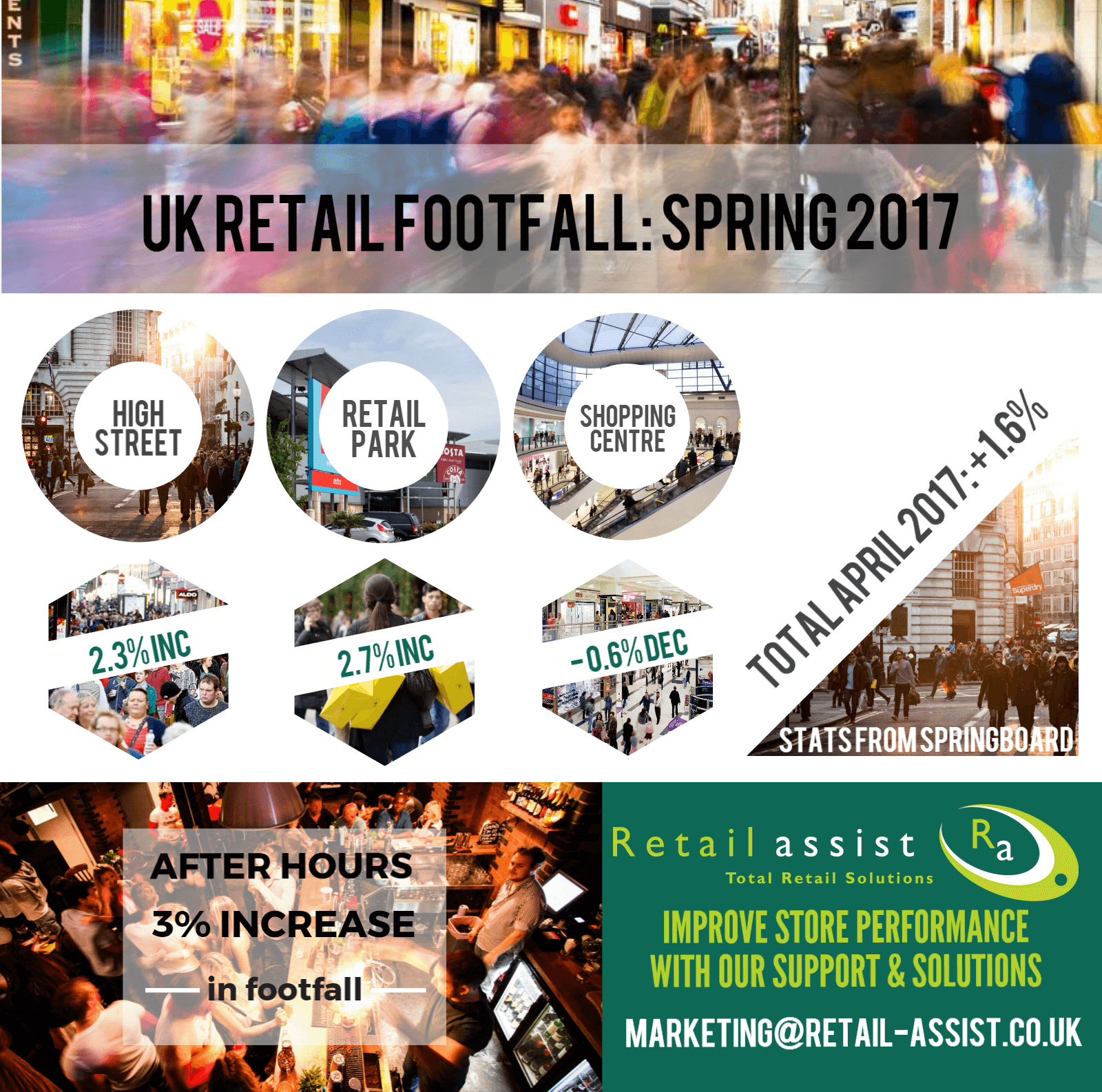 Clearly, there is still a strong desire for physical bricks-and-mortar shopping – research carried out by Retail Week found that 71% of consumers make at least 60% of their purchases in a physical store. However, we know that purchasing alone is not enough. Retailers must integrate their store into a wider omnichannel retail strategy: in the next year, 35% will use stores to 'browse, touch and feel' items before buying online; while 9% will use them for click and collect in their collection of online orders.
Where are they shopping?
As our infographic above displays, UK high streets attracted a large increase with footfall up 2.3% in April – the fastest growth since March 2014. Retail parks saw their shopper numbers increase by 2.7%. However, footfall at shopping centres declined 0.6% year-on-year, set against a three-month average decline of 0.9%.
BRC Chief Exec Helen Dickinson said April footfall figures were boosted by visits to shopping destinations during the Easter holidays. The increase was also fuelled by the weakened pound, which drove an increase in tourism: figures from London's West End highlight this trend, with a 2.7% uplift in footfall this April.
Out of Hours
One of the more interesting statistics in the report points towards the social shift towards leisure-focused experiences. Whilst high-street footfall rose 1.9% during retail trading hours, trips after 5pm increased by more than 3%.
If your IT services and solutions aren't supported during out of hours, which is the "peak time" for many retailers and hospitality operators, see how our retail IT support could help. Our team is available 24 x 7, supporting end users in 9 languages, in 18 countries. Find out more here, or get in touch about your IT support requirements via marketing@retail-assist.co.uk
In other news, our retail technology blog has been recognised in the Top 100 Global retail tech blogs, as ranked by Feedspot. Thanks for reading!