Although many businesses claim to put their customers at the heart of everything they do, for us, putting the customer (and our customer's customer) at the centre of our operations has always been our modus operandi. That's certainly something that will never change.
So much has happened in the last two weeks that it's been absolutely mind-boggling. For many of our customers and our partners, it's simply not "business as usual"; the reality is that retail and hospitality sectors are facing many pressures in light of our "new normal". So, if our customers are not "business as usual" then, by definition, neither are we. Except, for us, our business – providing the best customer support, especially at times of crisis – is unwavering. This is a time when our customers need to count on our support, more than ever. So, whilst the world has changed, our core objective hasn't: we're here to support our customers, no matter what the current situation throws at them.
Working From Home
So, what have our teams been doing? Like many businesses up and down the country – and, indeed, around the world – we've seen huge shifts of teams taking their work from the office to their homes. We've built many laptops, installed software and continue supporting VPNs, so that our customers can continue their work, no matter where they're based. We've enabled our users to work remotely, ensuring their operations are as consistent as possible.
One of the qualities we pride ourselves on is our ability to evolve; in our 20 years of trading, we've always been proactive in our approach, been able to react swiftly and to provide support no matter what the changing needs of our customers are. Now is no different; whatever issues COVID-19 throws at us or the sanctions being placed on our society to minimise the threat, our teams are here to consider the best IT support that underpins their operations. So, although your business isn't "usual", our key objective remains the same.
Dan Smith, our CEO, said: "Our initial focus has been on assisting our partners of the last 20 years, and Retail Assist has naturally prioritised our customers over requests we have received from outside our existing client base. We are here, like our clients, for the long term and we are supporting them in moving towards the "new normal". There is no need to make a drama out of a crisis: this is the time for a measured and supportive response."
Customer Support
We're so proud of our internal teams and the way they have worked together to provide incredible support to our customers, especially at a time where they need it most.
It turns out that many of our customers feel the same. We've been delighted to hear the positive feedback from our customers about our teams' work over the last couple of weeks. Here's just some of the lovely things they had to say.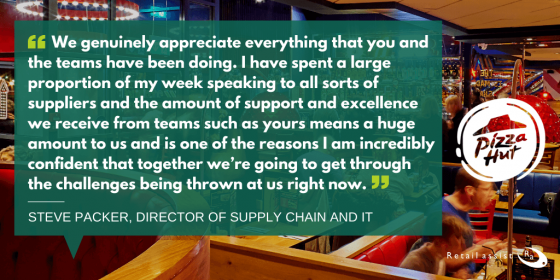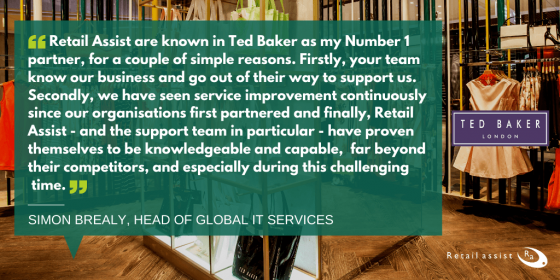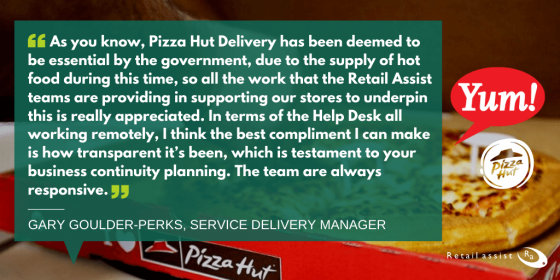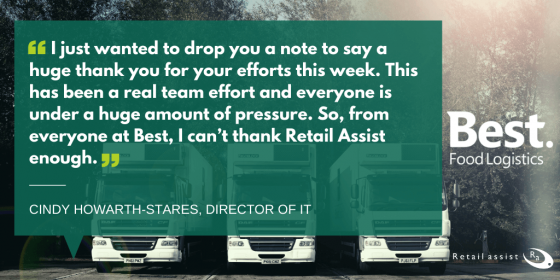 Is your IT provider giving you the IT support you need at a time like this? Take one thing off your list and get in touch to hear how our teams can give you the support you and your business needs.