Saint Patrick might be the patron saint of Ireland, but his name and feast day has come to be synonymous with celebrations. However, whilst many people around the UK will take part in St Patrick's Day events on the 17th March, in America it's a billion dollar industry; in fact, predicted spending for 2019 is expected to exceed $5.61bn. If the UK has followed American retail trends in the past, is St Patrick's Day set to become a key UK trading event of the future?
According to NRF, 55% of Americans plan to celebrate this year, with the biggest spends unsurprisingly going on food and beverages. Yet consumers are also looking to spend their pretty green on decorations and apparel, with 77% of men and 84% of women planning to wear green on the day. Interestingly, the breakdown in this percentage indicates that 87% of 18-24 year olds and 82% of 24-34 year olds plan on wearing green, perhaps providing an unexpected link between the saint's day and the rise of Halloween, as Gen Z and their millennial counterparts tap into the 'dressing up' element of the revelries.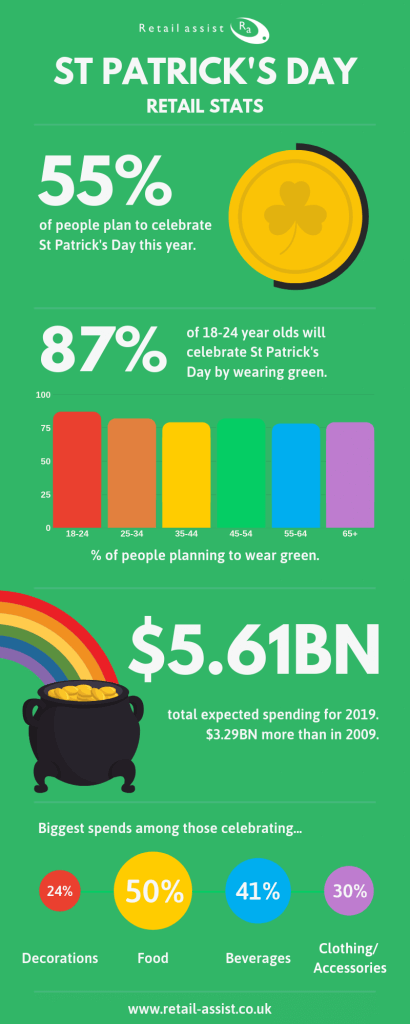 NRF's annual St Patrick's Day research also highlighted retailers such as Aldi who are targeting shoppers with products such as green or beer-flavoured cheese and other grocery chains embracing the holiday's feature colour with displays of Granny Smith apples.
However, it's not just the supermarket sector. A quick google of "St Patrick's Day Clothes" leads to some UK retailers, such as River Island, linking to a selection of their green clothes and accessories whilst other global brands are taking it one step further. Adidas recently announced their St Patrick's Day collection: a limited edition run of their Handball Spezial trainers which has three different Irish-themed colourways and "a clover sign-off to celebrate St. Patrick's Day". Perhaps this is yet another example of the globalisation of retail, as certain location-specific trends start to spread to other localities.
So is St Patrick's Day a growing trend? NRF certainly thinks so. A decade ago, only half of consumers under the age of 35 planned to celebrate, whereas now it has grown to over 70 percent. And, if the rising popularity of Halloween is anything to go by, with Mintel now praising it as the third biggest retail event of the year after Christmas and Easter, it suggests that St Patrick's Day looks set take the UK retail and hospitality sector by storm.
Retail Assist provides IT support to the retail and hospitality sector, which is crucial for peak trading periods. Want to hear how we can reduce your IT costs by 30% whilst also reducing system downtime? Click here or email marketing@retail-assist.co.uk.