What's green, loud and commemorated across the world? St Patrick's Day might have started out as a religious saint's day, but it's now celebrated as a day for Irish culture – and with the festivities to match. However, it's not just Irish people that take part, and with many events and ways of getting involved all over the UK, we surveyed the public to find out their St Patrick's Day plans and what this means for the UK's retail and hospitality sector.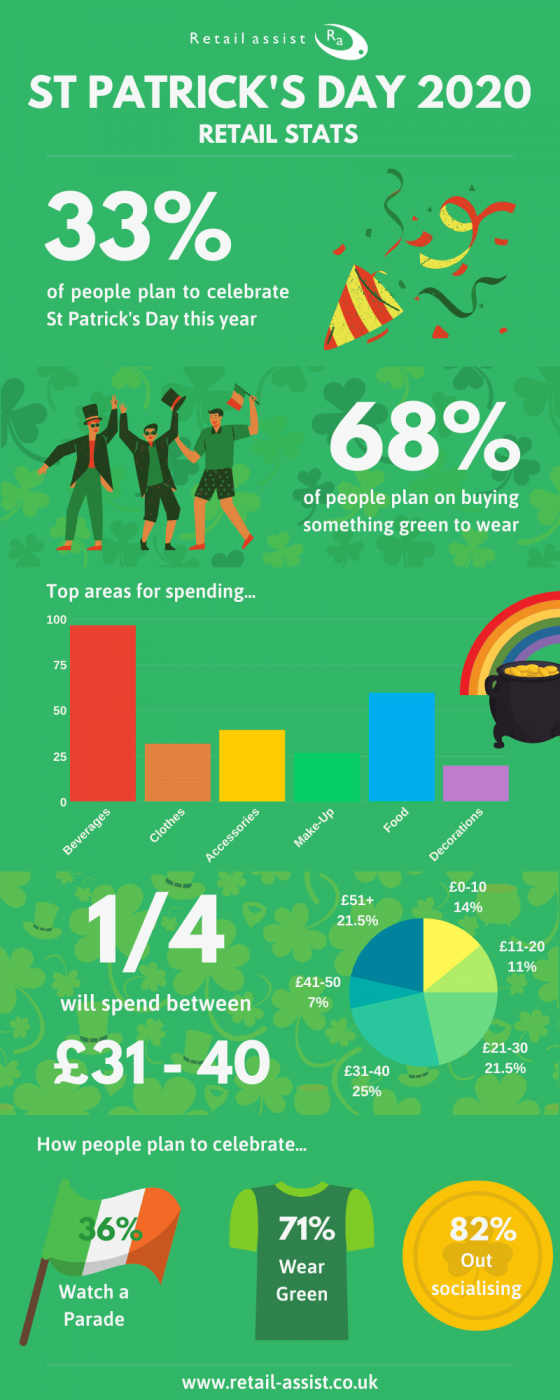 Key Findings
St Patrick's Day takes place on the 17th March every year, but this date falls on a Tuesday this year – not usually a weekday saved for partying. However, this doesn't seem to have put many people off, as a third of people said that they planned on taking part in 2020. Whilst this figure might be slightly less than America – the NRF estimates that 56% of Americans plan on celebrating this year – it's still a decent surge in the number of people that retail stores and hospitality vendors might usually expect to see midweek.
So, how are consumers looking to get involved? Of those surveyed, 71% of people said that they planned on wearing green, with 82% saying that they planned to take part by going out socialising with their friends and family. With these high figures looking to engage with retail and hospitality brands, it's encouraging to see that 25% of people plan on spending between £31-40 and 21.5% of people looking to spend over £50.
But what are consumers going to spend their pretty green on? For a day that's synonymous with parties and celebrations, it's perhaps unsurprising that 96% of people said that they were going to buy beverages and 60% of people going to buy food. However, it's not just the hospitality sector; many consumers are also looking to hit up the shops, with 68% of people saying that they're planning on buying something green to wear, with 39% buying accessories, 25% buying make-up and 18% buying decorations.
Whilst the high numbers of people looking to spend their money on food and drink are perhaps to be expected, it also highlights a brilliant opportunity for retailers to get in on the act and to engage with their customers on another level. Just last week, Kate Middleton showcased a plethora of green outfits whilst on an official royal trip to Ireland and online fashion magazines such as Elle, Harpers Bazaar and Cosmopolitan have all done articles over the last month with St Patrick's Day outfit inspiration. With consumers looking to add green items to their wardrobes, retailers can capitalise on this by ensuring that stock levels are optimised with a merchandise management solution such as Merret Pro and that product information is enriched with the help of a PIM solution to make items as easy as possible for consumers to find.
However, if your trading peaks this St Patrick's Day, don't get caught short if IT lets you down. Our Help Desk supports retail and hospitality brands with their IT needs, meaning that we'll keep you trading no matter what issues you face. In fact, don't rely on the luck of the Irish to get issues solved: outsourcing to our Help Desk reduces system downtime whilst also can reducing your IT costs by 30%.
Click here or email info@retail-assist.co.uk to find out how we can support your in-store experience when you need it most.