It was all so different in retail days of yore. Keeping things functional required little more than ensuring sufficient till roll was available and that the change drawer was well supplied. However, flash forward to 2019 and maintaining a functioning, efficient and healthy retail system now involves the sort of expertise, time and money that would have stunned our retail predecessors.
One of the main issues facing any retailer is recognising exactly how they are going to ensure IT systems are well managed. Customer expectations continue to rise – as does competition – and a retail system that is not in optimum health can have major consequences. Dedicating the time, capacity and staff to the undertaking can be challenging, but certainly not insurmountable.
Built on our 20 years of experience, here are Retail Assist's top health checks for retail systems.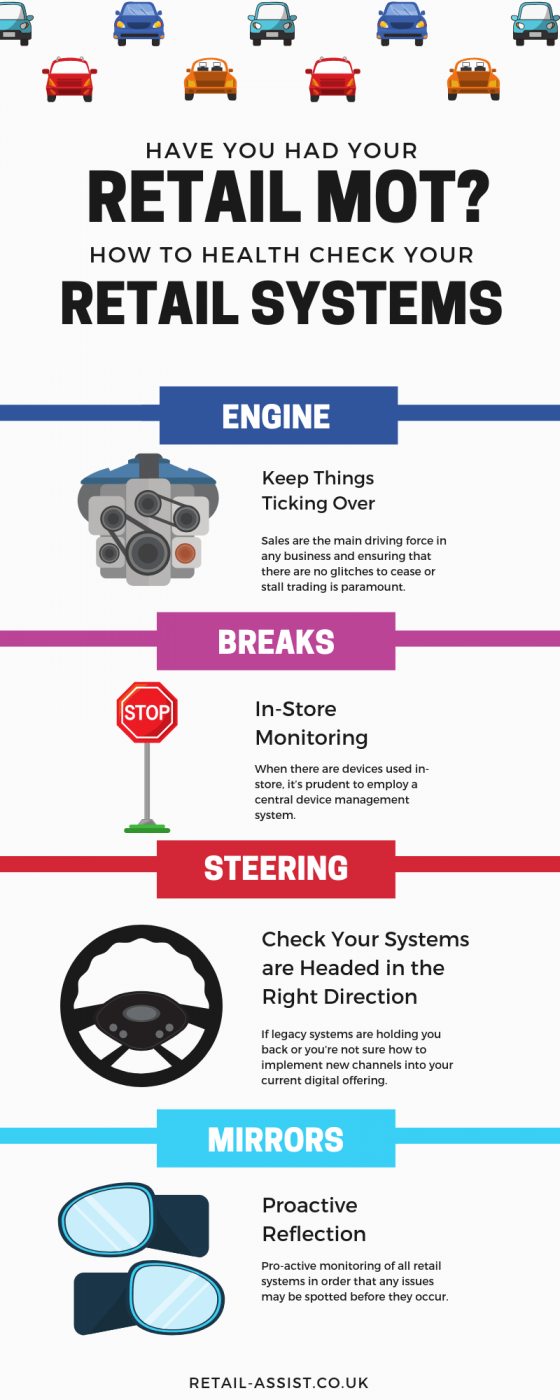 Engine: Keep Things Ticking Over
Sales are the main driving force in any business and ensuring that there are no glitches to cease or stall trading is paramount. Any issues with retail systems should always receive immediate and thorough attention – something that Retail Assist acknowledge with a 24/7 flexible, multi-lingual retail Help Desk service. As there is one single point of contact, retailers can quickly connect with our Call Analysts and see their issues managed right through to the point of resolution. The specialist support offered means that retail employees with no knowledge of how retail systems operate can flag a problem and have it swiftly dealt with, resulting in no time being wasted.
Brakes: In-Store Monitoring
When there are devices used in-store, it's prudent to employ a central device management system, such as AirWatch; this remotely monitors devices in a store environment and monitors the health of those devices. However, it also has the ability to 'put the brakes on' by locking the device remotely in the case of theft and to also put in place security measures to monitor which devices are connected to the network and control what sites those devices are accessing.
Steering: Check that Your Systems are Headed in the Right Direction
With modern retail demanding that brands expand over new digital channels, retailers may find they aren't in a position to fully maximise all selling opportunities. If legacy systems are holding you back or you're not sure how to implement new channels into your current digital offering, installing a PIM solution can help to steer your business in the right direction. A PIM offers a single, central point of data entry, where product information is optimised and managed through workflow processes, before being published to whichever selling channel is provided. Retail Assist's software, OMIO PIM, delivers an end-to-end solution that comes with ready-built connectors and integrations to all digital marketplaces.
Mirrors: Proactive Reflection
Just as retailers continually strive to offer better levels of service, Retail Assist are also continuously improving and looking at new processes and procedures. This involves pro-active monitoring of all retail systems in order that any issues may be spotted before they occur. Comprehensive reporting to retailers of exactly what is being done ensure that transparency and clarity is provided. As everything is continually monitored either remotely or on site, a flexible approach ensures that any changes needed are done in a way that is not disruptive to retailing.
If you'd like more information about how we can help improve the health of your retail or hospitality business, get in touch here or email info@retail-assist.co.uk.