In search of the latest retail tech innovations, and the bright lights of New York City, Retail Assist recently attended the NRF 2016 Expo, Retail's BIG Show. You might have caught up with our experiences on the Show floor this year, by way of our live vlogs.
Our Head of Marketing, Alex Broxson, gave a fantastic insight into some of the technologies the team were impressed by. Click to watch the vlogs from day 1 and day 2. We also wanted to round off our NRF experience in today's blog.
So – what is likely to "change the face of the retail world" as the next BIG thing for retail technology? Nothing too out of the ordinary. The main trend we witnessed was data, or rather, the ways in which data is being analysed, mined and used to understand the customer and provide a more personalised experience. We have all seen futuristic technologies, but they can often be too gimmicky or cost prohibitive, and we were pleased to see more realistic presentation of what retailers could have in their stores today. The most promising aspect of this year's NRF Expo was that the attention was focussed on making the store an integral part of the supply chain, by way of in-store customer experience as well as supply chain processes, which will equate to greater profitability for omnichannel retailers.
Here are our Top 5 Technologies:
1) IBM Watson
Watson is a fine example of cognitive computing: a system that learns and builds a high-powered database, enabling it to respond to questions and situations with a learned set of responses.
The example we saw, in collaboration with North Face, is featured below from 1 minute 10 seconds onwards. The customer is going on holiday to Jackson Hole in February, and Watson showcases the most appropriate jackets for the conditions, without having been asked to.
This is an example of utilising Watson from a customer perspective, but retailers could use Watson to predict sales performance, through integrating customer data, behavioural patterns and social media. Pre-season planning and merchandising would be more efficient using Watson to anticipate trends and respond more effectively for greater profitability.
2) Virtual Reality
We were impressed by Oculus Rift at last year's show, (read our excitable first introduction to VR here), but this year featured a more integrated customer journey from Virgin Atlantic. VR was used to showcase their first class customer experience, from the limousine to the airport, the airport lounge, and in-flight experience.
What the hospitality business has latched on to is the use of VR to sell a particular service: holidays in particular benefit from the "you don't have to be there to go there" concept that VR facilitates. However, retailers are selling a material product, more than an experience or service. In this case, VR needs to be fine-tuned to selling the end product as well as the retail service in-store. We think we'll see retailers address this throughout 2016. Perhaps the transactional element needs to be integrated into VR before it can fully take off in retail as part of the shopping journey.
3) Wearables
Step aside, smart watches. The next big wearables push will be dealing in silver fibres, rather than in watches. The Ralph Lauren PoloTech tops below are woven with smart silver fibres that monitor biometrics, for more accurate health insights whilst exercising. The results are streamed live through a tiny detachable Bluetooth box, straight to the wearer's iPhone or Apple Watch.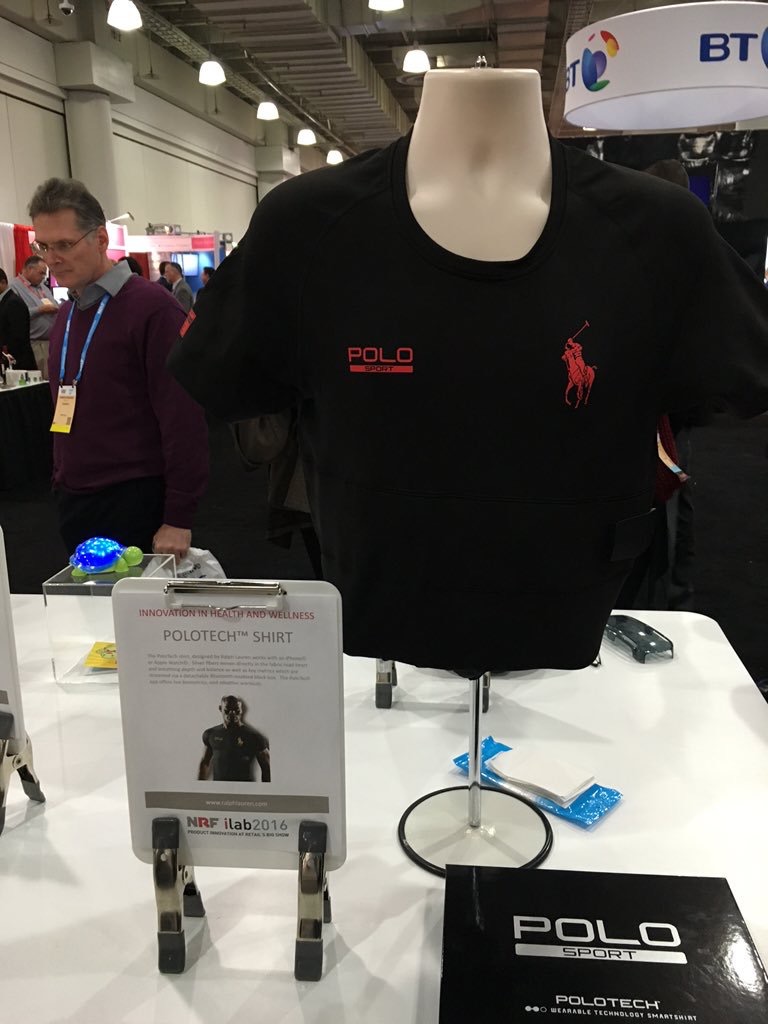 With activewear becoming one of the key "fashion" trends for 2016, and the population's increasing interest in monitoring our own bodies becoming more widely accepted (think FitBits, iPhone health apps, etc..), this could be a key differentiator in the market.
4) RFID
We can expect to see more retailers using RFID this year, thanks to the overwhelming number of benefits they deliver to retailers and consumers alike. A great example of RFID being used to its maximum potential in-store is when pairing product with a smart table, see our video below at 3 minutes in.
The wealth of information that is immediately accessible to the customer mimics the online experience in the store environment – live reviews, full info, social content – were all previously inaccessible in store, and now can be a part of the buying experience.
5) Changing room tech
Our Portuguese partners, InovRetail, are making headway in this space with smart changing room technology, to make the changing experience much more convenient for the customer. At NRF, we saw similar innovations.
The goal? No more half-dressed embarrassment for the customer. If you want another size, colour or style, you simply press a button on a tablet inside the changing room to send your request to an assistant, who will be notified on tablet/radio.
So if that was the good, what about the bad and the ugly?
…The bad?
Perhaps the most controversial discussion we had was surrounding this guy: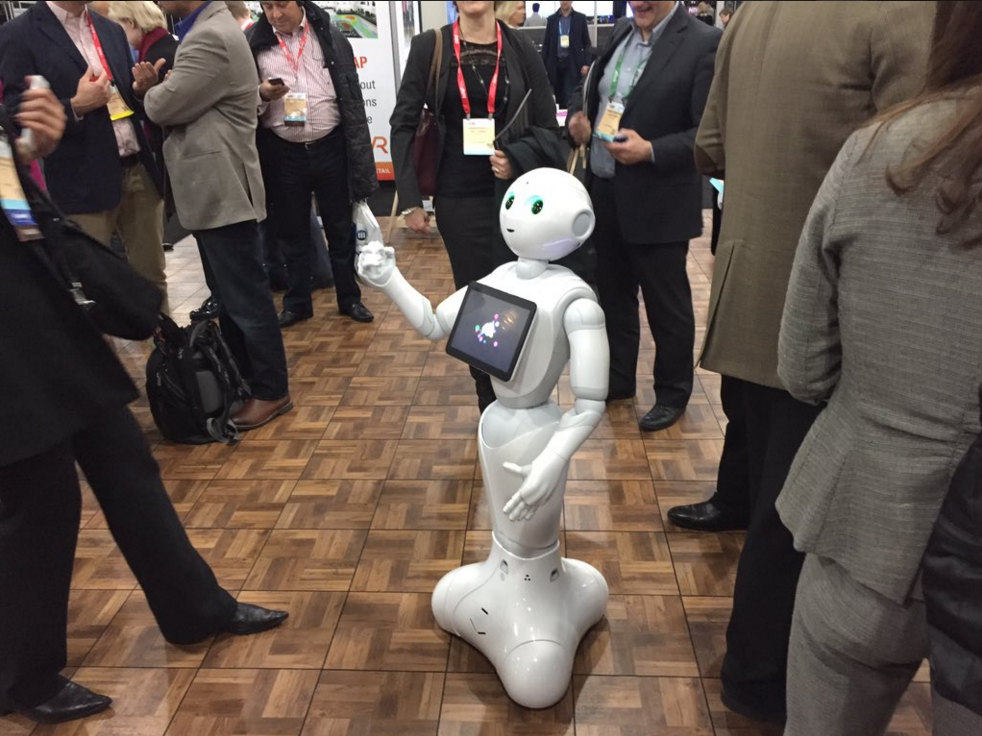 Robotics have featured at NRF Expo for a few years now, but a big leap has been taken in Artificial Intelligence recently. Robots were introduced at NRF as the future of in-store assistants, removing the need for human staff at all. "Think of the cost savings!" But, isn't there still something slightly creepy about a robot greeting you by name, and recommending items to you based on previous purchases? Wouldn't this be a more comfortable experience, delivered by your usual store assistant?
As you can see from our Twitter discussions, we concluded that the in-store experience needs to provide consumers with a differentiated experience to what they would receive online.

…And the ugly?
Chicken flavoured chocolate. What this was doing at a retail tech show, we'll never know!
That's a wrap. Until next year! Team #RAnrf16