The 4th Annual NRRKEC (National Retail Research Knowledge Exchange Centre) Retail Symposium was held on Thursday 11th July in the Nottingham Conference Centre at Nottingham Trent University.
Whilst the theme for the day was 'Innovative, Independent Retail', the symposium featured keynote speakers who have their eyes on the wider retail environment and the effects on the high street that stretch beyond independents.
Retail of the Future
Bill Grimsey, author of The Grimsey Review and former CEO of Wickes and Iceland, is the Executive Retail Director of the NRRKEC. In his introduction to the day, he said: "Retail of the future won't be based on conventions of the past."
To illustrate his point, Bill spoke about how his granddaughters had asked for Amazon vouchers for Christmas. The vouchers were given to them on the 25th December and, by the time that Bill had gone to visit them on the 27th December, their presents had not only been ordered, but also delivered. He argued that perhaps 'retail' is an old-fashioned term as stores start to move towards experiential spaces – towards entertainment, even.
Convenience is Key
Susan Hallam, founder of digital agency Hallam, spoke on 'Being Creative in a Place', exploring the different ways that retailers can engage with their audience.
She explained that 80% of people will still go in-store for an item they want immediately, offering credence to the 'Google My Business' tool, where searches can be tailored to be 'near me'. Coupled with this, another tool for large and independent retailers alike is Google's In Store Inventory; this is a version of paid ads, where retailers can upload their inventory and, the next time someone searches for a 'hot pink midi dress', Google will not only show them the results, but will show the customer where they can buy the actual item, including how many miles away it is from them (and, because it's Google, they will also give the address and opening hours of that retailer). Adding to her belief that "convenience is the new loyalty", Susan argued that this tool could be utilised by all sizes of retailers to help drive footfall to stores.
The Future is Omni
Rounding up the day, Krisi Smith, co-founder of Bird & Blend Tea Co., spoke about the need for retailers to successfully blend the wider online world with the physical.
Bird & Blend Tea Co. has an innovative approach to their retail space; offering their customers a cohesive blend of the senses in-store, they also engage with them through holding diverse events in their store space and through many different social channels, including invite-only Facebook groups and product development groups.
She said: "I passionately believe that omnichannel is the future of British retail.
"It's more than okay for our staff to spend 30 minutes with someone, for the customer to then leave without a store sale and to then complete the purchase online. Being a true omnichannel brand means being there whenever the customer is ready for you."
Click here to watch our video with Krisi, as she explains her approach to omnichannel retailing in further detail.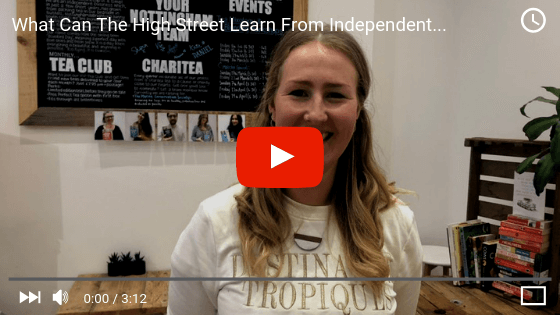 Want to hear how we can support your omnichannel aspirations? Get in touch here or email info@retail-assist.co.uk.