The Brands Behind Love Island
It's 8.59pm on a Monday evening. You hear the famous jingle… You run down the stairs in excitement. Your phone won't stop buzzing, the group chat is going off! You settle down as Iain Stirling narrates to you the events of the night before. Parents, husbands and maybe even the dog will complain of your ritual, but by the end of the 8 weeks, they've slipped into the same routine with secret enjoyment.
It's Love Island. The craze that floods our social media channels and steers office gossip the next morning. If you haven't watched it, you've definitely heard of it – let's be honest, you had to find something else to grumble about now the World Cup is over. However, not only has this year's Love Island taught us a lot about loyalty, it's also enriched us with an outlook on purchase habits, particularly in the Gen Z and Millennial demographic.
Sponsors of the programme include Superdrug and Missguided amongst others, and since partnering, both have seen immense financial and brand success.
Superdrug saw a jump in its pre-tax profit by 16% to £92.9m last year and increased its market share to 32% in the cosmetics market. It attributed the steady financial figures to marketing campaigns such as its sponsorship of Love Island, by kitting out the islanders and hosting the ad breaks.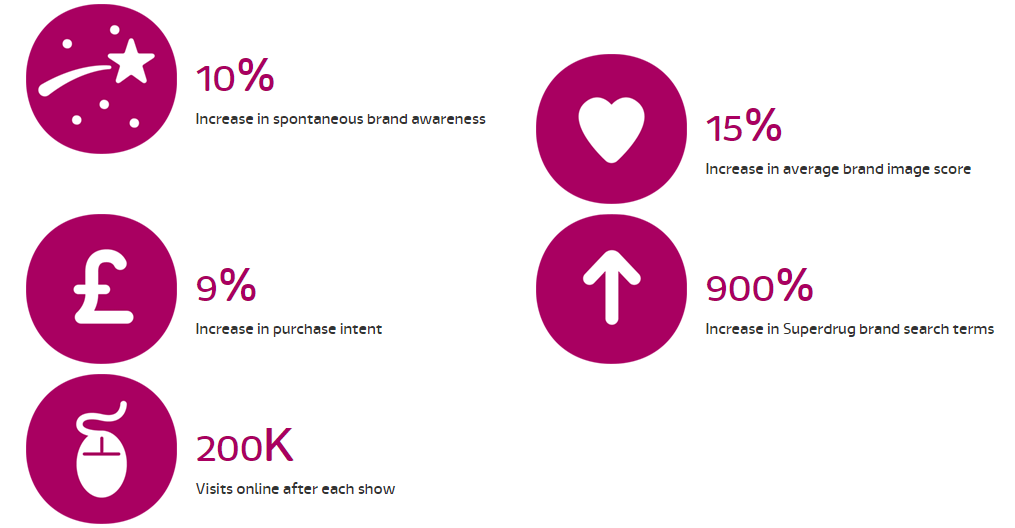 Figures disclosing brand success at Superdrug as a direct result of sponsoring last year's Love Island. Source: ITV Media
Online fashion giant Missguided, however, has taken its sponsorship a step further. Missguided sales have reportedly spiked 40% in the evening, when the show airs, and this is down to more than just successful sponsorship. Missguided has provided clothing for Islanders on the show, giving new meaning to "buy the look", rather than this just being a website option. Watchers of the show can see for themselves how the clothing looks, as Islanders are effectively modelling and promoting its clothing line.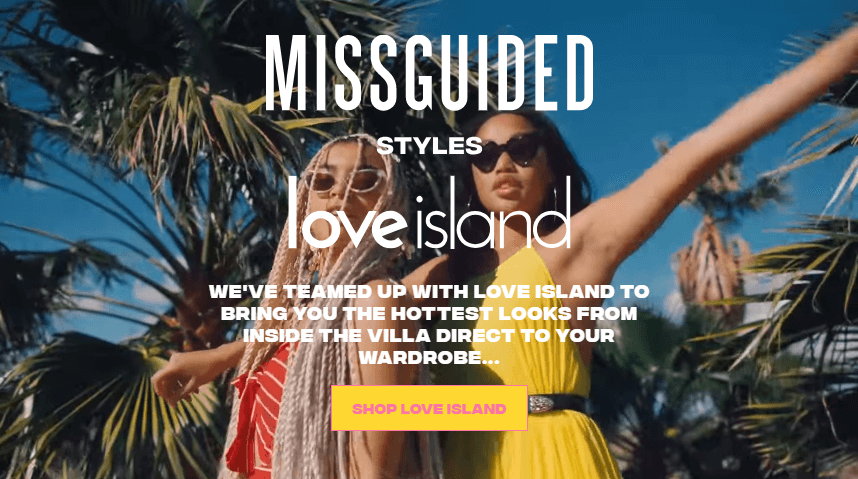 Targeting:
The show captures a 56% share of the 16-34 demographic, targeted at females who watch TV during peak hours. This naturally aligns with Missguided who creates celebrity inspired high street fashion for females aged 16-30. Therefore, the context is already set, and Missguided fit perfectly as a sponsor, rather than brands like Lucozade and Rimmel who have had to alter their branding to force a fit.
In essence, this gives Missguided direct access to their core customers 6 nights a week for 8 weeks, giving them compelling frequency and depth of engagement like no other!
Product Placement:
It's also worth noting that this digital native demographic of Gen Z-ers and Millennials is highly influenced when it comes to purchasing – so the fact that Missguided is supplying the islanders with clothes, as well as appearing in most, if not all ad breaks, only enhances brand engagement and likelihood of purchase.
Missguided has established its product placement further by making the clothes easily accessible, by posting natural screenshots of the islanders wearing its clothes on its website, enabling you to buy the outfit there and then.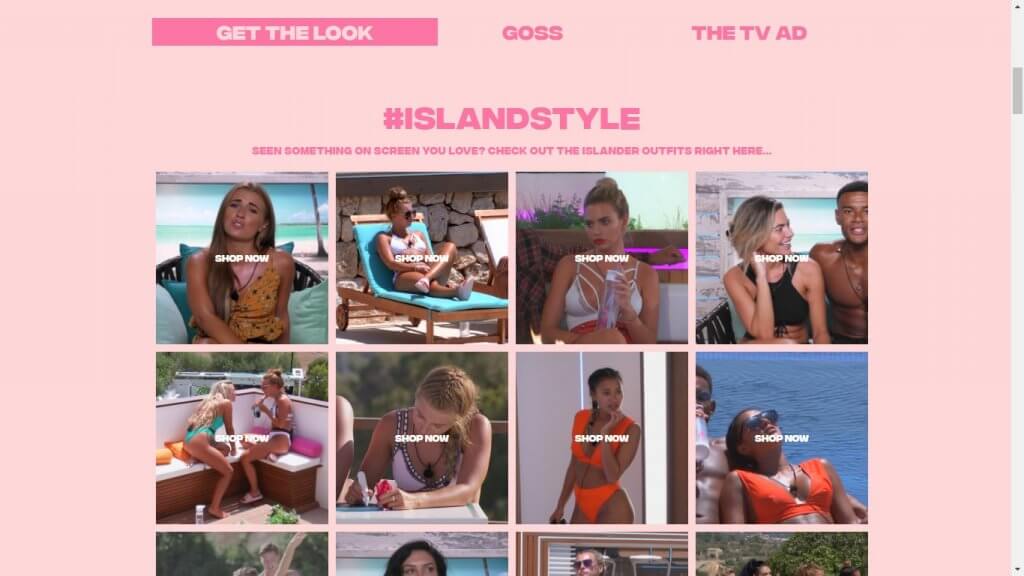 Multi-screening:
It is now second nature to multi-screen – referring to the use of multiple devices at the same time. Google pointed out that 81% of us use our phones whilst watching TV, a figure that only increases to 87% as you narrow it down to Millennials and Gen Z.
The average Gen Z-er has the attention span of about eight seconds, so it comes as no surprise that content displayed on one device (TV) can influence the buying behaviour and activities carried out on the second device (smartphones).
Ad-recall and awareness:
Although you may think that multi-screening would reduce the amount of attention paid in the ad breaks, studies show the opposite. If you don't pick up your phone during the ad break, you're likely to leave the room rather than stay and listen peripherally, meaning you'll recall less of the ad content. This is consolidated in that Missguided's ad awareness levels have increased from 13% to 20% in its target demographic since the show started.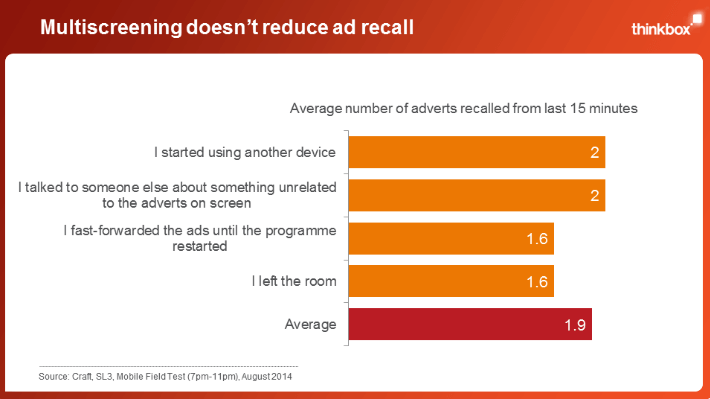 Impulse Purchasing:
There is plenty of research that demonstrates browsing on a smartphone results in impulse purchasing. Further research states 52% of millennials are more likely to make impulse purchases than any other generation. As previously stated, the core customer carries out multi-screening with their smartphone, therefore, increasing the likelihood of impulse purchasing.
If you're already a customer of Missguided – which most viewers are – you're only one click away from seeing the dress on your screen, at your front door the next morning. It couldn't be easier.
Missguided Brand Success:
Not only will Missguided have increased their sales *on paper*, but with a sheer 3 million of us tuning in every night, brand awareness and reach will have rocketed.
Missguided's unquestionable success from Love Island is a result of a well thought out plan, pre-empting the attitudes and habits of their demographic, and they most definitely pulled it off.
Contrary to islander Georgia Steel's insistence on being loyal, Gen Z-ers have been labelled in the past as consumers who lack brand loyalty. Will viewers of the show stay loyal to the sponsor brands after the show finishes? Maybe Georgia can teach this demographic a thing or two…
Thinking of targeting Gen Z and Millennials, but want to ensure you're operating with the best technology platforms? See how we could help you deliver better omnichannel customer experience with Merret and get in touch by emailing info@retail-assist.co.uk… "Got a text!"