Whether you count yourself as a first-class Mathlete or have a decent case of arithmophobia, there's no denying that a critical tool in the drive for better customer experience is data.
Whatever your role within retail, data enables you to gain further understanding of the successes and failures of your operation, make predictions for the future and analyse trends – all of which can shape the way your business works. However, the biggest benefits are felt in what it can do for the customer. So how can retail data improve the customer experience? Let me count the ways!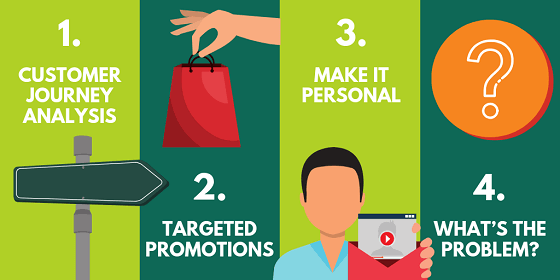 Number One: Customer journey analysis
Understanding the behaviour of a customer is a vital part of being able to assist them; data enables businesses to predict trends and looking at data can track the journey customers take to purchasing an item. Observing how long they spend on particular parts of the purchasing process, such as product descriptions or images, will draw attention to where focus needs to be concentrated on a webpage. Likewise, looking at the route they take to the purchase the item is valuable; whether they come from a homepage directly, are looking around the site before going to checkout, or taking a much more direct approach from a social media post. The data obtained can be used to make this journey easier, smoother and more pleasurable for the customer.
Number Two:  Targeted promotions
Retail data can be used for more effective and impactful targeted promotions; rather than generic mailers, instead marketing messaging can be more focused, with individual offers and enticements aimed directly at a customer, based on their likes, interests and previous interactions. Recommendations as to what else they may like to purchase, products that are often purchased together and things in similar styles can all be made. Customer experience and satisfaction will be enhanced as recommendations are thoughtful and tailored – two things that are vital for any successful customer experience.
Number Three: Make It Personal
The advantages of retail data are not only felt in online retailing, but also in-store purchasing. Loyalty schemes can be tailored based on information that has been obtained, as a picture is built up about the behaviour of a customer. This can, of course, go hand in hand with offering traditional 'discount coupons' at POS systems or simply to give staff an awareness about what they could recommend to a customer. Retailers that operate specific in-store equipment, such as staff being equipped with iPads, will be able to take particular advantage of data, using information about a customer that is available to them immediately to help them on a more personal level.
Number Four: What's the Problem?
Dealing with issues and problems efficiently and quickly is one of the major aspects of customer satisfaction and is something that data analytics helps with. With our Store Stock Management System, trends and spikes in the popularity of an item can be spotted and recognised rapidly, with action taken accordingly. If a particular item is worn by a key influencer, for example Kate Middleton at a high-profile event, a surge in online searches for it will be seen, and stock can be adjusted to meet demand. In a similar manner, any local trends or low stock levels can be observed and items moved to areas where they are most needed. The fewer customers find themselves disappointed with unavailability, the higher their levels of satisfaction will be. Alongside this, utilising PIM software means retailers can react swiftly and capitalise on product popularity to increase product visibility across a brand's digital offering.
If you'd like to hear more about OMIO PIM, our PIM solution with a PXM approach, click here.